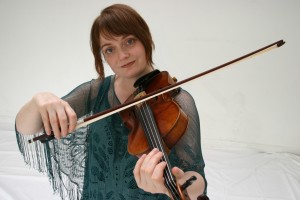 Congratulations to Amy Geddes who have been nominated in Music Tutor of the Year sponsored by Creative Scotland Youth Music Initiative in the MG ALBA Scots Trad Music Awards 2015. Vote now!
We asked Amy Geddes of Amy Geddes the following questions.
Tell us about yourself
I am a musician and educator, grew up in Galloway and have now settled in Pathhead, Midlothian. I'm an active member of the Pathhead Music Collective with fourteen fellow local professional musicians.
I play the fiddle & sing in my own trio, with Dean Owens, in the Scottish Stepdance Company and in many other guises as opportunities arise. I have taught fiddle since ever I can remember, doing private lessons, in mainstream education and for numerous community organisations including Glasgow & Lochgoilhead Fiddle Workshops, the Scots Music Group, Riddell Fiddles, Fèisean nan Gàidheal & the Pathhead Fiddlers. As well as teaching for these groups I have worked in a voluntary capacity as Chairperson of both SMG & GFW and co-run the Pathhead Fiddlers.
In the last two years I have set up my own annual fiddle school at Ardkinglas, aptly named Fyne Fiddles which I run, tutor and also cater.
I also work as a trainer with ABC Creative Music delivering child-centred music programmes for Early Years, Primary and SEN/ASN.
Why are you involved in Scottish music?
There was no TV in my house – this may have contributed to my interest in music and books! I started Highland Dancing about the same time as I went to school, then began singing and was given a fiddle age 10. I was lucky to live in the same village as Jo Miller (founder of the first Trad Music degree in Scotland at the then RSAMD) and her neighbour Tommy Edgar, who was leader of the Starry Starry Nights SDB and – no less importantly – the Dame in our local Panto every year. Jo would give me fiddle lessons in her holidays from University and Tommy would take me to dance and play fiddle at local events and in hospitals and residential homes.
It was brilliant and I am quite convinced, better than TV. So it began and so it has continued. These days it's often me taking the wee ones to play at local events round Midlothian.
Any particular career highlights?
Getting the job as Traditional Musician in Residence for Clydesdale age 21.
Accepting the invitation to be the first tutor and to work to help establish the hugely successful Lochgoilhead Fiddle Workshop.
Having my compositions recorded by other artists – notably Catriona MacDonald & Fyne Friday (Anna-Wendy Stevenson, Nuala Kennedy, Kris Drever).
Working with vulnerable youths and adults as a tutor and Artistic Director for the SMG Inspire project.
Being part of the driving force that led Pathhead Music Collective to the successful Creative Places Award application and the ensuing creativity and chaos.
My tunes being published in Volumes 3 & 4 of Ho-Ro-Gheallaidh Session Tunes for Scottish Fiddlers.
Being nominated of this award!
What are your plans for the future?
More gigs, more teaching, more fun! You never know what is around the corner so it's best to plan with enough space for the unexpected to fit in.
Last month I squeezed in a trip to Ghana and recorded music for a new theatre show on top of all my regular teaching commitments. This month I have a series of gigs with Dean Owens & the Whisky Hearts, a trip to Aberdeenshire for a week to work in schools and I'm hatching plans for a bespoke fiddle school for 4 people in the Isle of Skye early in 2016. I might have a holiday soon too.
Read more about Amy Geddes
http://amygeddes.co.uk
Facebook: https://www.facebook.com/amy.geddes.399
Twitter: http://www.twitter.com/@scottishfiddler
If you would like to come along to the MG ALBA Scots Trad Music Awards in Dundee's Caird Hall call the Caird Hall box office on (01382) 434940 or buy online.