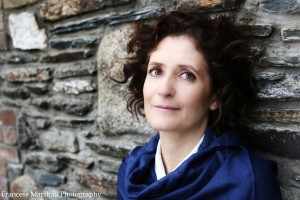 Congratulations to Alyth McCormack who have been nominated in Gaelic singer of the Year sponsored by Macmeanmna in the MG ALBA Scots Trad Music Awards 2015. Vote now!
We asked Alyth McCormack of Alyth McCormack the following questions.
Tell us about yourself
I originally come from the Island of Lewis, I grew up singing Gaelic songs whether in choirs or solo. I studied piano from when I was about 6 or 7 but it was always singing that I loved. I started entering competitions at the Local and National Mods and was a very keen ballet dancer (that began when I was three though I'm not sure what grace I might have had at that age!) however, I was used to being on the stage and loved being part of school productions too.
Until I was about 15, I had considered being a vet as I was mad about horses and animals having grown up on a croft, but when I heard that you could actually go to college to study music and that it could become your career, I had my heart set on that. There were no traditional music courses at this time so I auditioned for a course in Edinburgh at Napier University for a Diploma in Music. From there I went on to study a BA Degree in Performance at, what was then, the Royal Scottish Academy of Music and Drama. I finished a post graduate degree there in 1994. I never wanted to be a classical singer, traditional music is my passion, but I am very glad of the grounding this course gave me and have no fear of performing with a variety of musical genres because of this. In my early career I performed in the folk scene with Tannas though Phil Cunningham gave me my first job as he put me forward for a job with a dance and theatre company.
I sing as a solo artist, generally under my first name Ályth, and have worked with a myriad of folk artists from Norma Waterson and Martyn Carthy, Moya Brennan to Shine whom I co-founded back in 1998. I have done various tour specific projects that have taken me to South America, Scandinavia and throughout mainland Europe and the UK. I joined The Chieftains in 2008 and in addition to touring the globe with them, I have toured with Ry Cooder and Country artist Trace Adkins. I have worked as an actress also, playing the led in various musicals and plays. I love being on stage, performing, or even sitting around a table having a session. Singing makes me feel good.
Why are you involved in Scottish music?
It's in my blood. I've been involved in it since I was born. I grew up with Gaelic song all around me. At that time in Lewis there were accordion groups, pipers and a pipe-band and, because of the strong religious faith there, there were hundreds of singers. Singing was seen as the most direct way to communicate with God and since the island was very religious, lots of people sang.
As I said, singing makes me feel good and hopefully that makes others feel good too. Sometimes I feel a song is simply passing through me. It is as if the song has an energy of its own and the audience and I become connected. It's a difficult thing to explain but I am sure other singers experience this too. Scottish music, traditional music, folk music – dare I say it – turns me on! It makes me excited. Musicians digging into a great set of tunes will have me on my feet, a slow air can make me cry, a piobroch can start floods of tears. I love seeing how young musicians and the Scottish music scene has developed thanks to the Feis movement and people's love of playing. I feel the music of Scotland is in a good place and I am so glad to be part of it.
Any particular career highlights?
I won the Gold Medal at the National Mod in Inverness in 1997. It was important to me as the mods were where I had really started singing 'professionally'. When Donald John Maciver announced me as the winner that year, he said that the judges believed that I would take Gaelic song around the world, and that is what I have sought to do, that and learn from every musician I have had the pleasure of working with. From that point I ended up singing Gaelic songs in a 'show' in the Playhouse Theatre in Edinburgh and from there I came to the attention of revered Irish music promoter, the late Jim Aiken. He brought the biggest international artists over to Ireland, though he did tell me once that his favourite thing was my singing unaccompanied Gaelic song (I don't know if he ever told Elton John or Bob Dylan that though!) My connection with Ireland started fairly early. This led in 2004 to my taking the lead female role in a musical documenting the story of the Scots-Irish called 'On Eagle's Wing'. The Gaelic song I sang was pivotal in that story and we opened to 5,500 people closing to 6, 500 people and I am very proud of that. Until this point Gaelic song had never been performed in a musical. I also met my husband, Noel Eccles, while working on this show and therefore it has a special place in my heart.
I have been singing with The Chieftains since November 2007, we have performed throughout the globe; venues and performances I remember in particular are the Walt Disney Symphony Hall in Los Angeles, the John F Kennedy Centre in Washington, Boston Symphony Hall, Atlanta Symphony Hall, Nashville Symphony Hall, the Albert Hall in London (that hall has an amazing acoustic for unaccompanied Gaelic song). I've sung in Japan and more recently have sung 'Lullaby for the Dead' by Brendan Graham and Paddy Moloney with The Chieftains and the RTE Symphony orchestra in Dublin, and The Pacific Orchestra in California.
One of the most memorable performances was the first time I sang with The Chieftains in Carnegie Hall, New York it was St. Partick's Day 2008. I come out for the 3rd number of the set having been introduced by Paddy Moloney, the band are playing the song's introduction (the song is 'Nuair bha mi og' written by Mairi Mhor nan Oran of Skye) so the first thing I do is sing. What I hadn't told the lads, or anyone, was that I had a special outfit for the night. I was being sponsored by a Harris Tweed company and on their books they had an Anne Boleyn style dress which was 'basically' the Scottish flag. Now even I knew that the whole dress was a bit too much, so I wore the bodice teamed with a matching blue tweed skirt and walked out on to the Carnegie Hall stage, to a hall full of ardent Irish folk fans and the world's most famous traditional Irish band on St Patrick's day in New York dressed as a wee proud part of Scotland. I think The Chieftains still laugh about that but I had the best laugh as it was Andrew Carnegie's hall after all. I have also been on stage with The Chieftains in Carnegie Hall for their 50th Anniversary in 2012 with 50 pipers and 50 dancers – that is something you do not forget! I love them all; they are my road family.
In 2007 I auditioned to take part in Proiseact Nan Ealan's ambitious European wide Opera 'St Kilda – The Island of Birdmen.' I was chosen to go to Mons and perform as the Gaelic voice of the Island in the stage production there. There were simultaneous productions happening in five European venues including Lewis, in Dusseldorf, Valencia and on the Island of St. Kilda. I had a wonderful time in Mons. I really appreciated working with the French/Belgium theatre company and marvelled at the different styles of theatre they implement. I often had to remind myself to not watch the production from side stage as I would get drawn in and I didn't want to miss any cues. The company created stunning imagery on stage with the use of musicians, singers, acrobats, recent footage of the Islands and lighting and it was beautiful. The feather in the cap was that, of all the productions, our production was invited to open the Edinburgh International Festival in 2009 at the Festival Theatre in Edinburgh.
From working with The Chieftains, I was introduced to Country super-star singer Trace Adkins. In 2013 I duet-ed with him in the Brigestone Arena in Nashville, I opened our performance with an unaccompanied Gaelic verse to an audience of 19,000 people for an event that was being televised to about 5 million. I definitely knew I was alive that day and I was even more excited as I invited my parents over to see the show, I was delighted they were in the audience and they were treated like royalty. From there Trace invited me to join him for a 6 week tour of the USA last Nov/Dec 2014 and I had an absolute ball. It is the first time I had done a full bus tour, The Chieftains are old school and tend to fly everywhere, but this was real touring in a Prevost luxury tour bus. It's referred to as submarining as you leave one city and wake up somewhere else far, far away. We covered a lot of ground and I got to sing in some amazing venues with Trace and the best of Nashville's Bluegrass and Country musicians. It's a trip I will never forget. Also, performing at the Hebridean Celtic Festival in Lewis is always a favourite as I am on home territory and Celtic Connections is a tradition in itself, I have so many wonderful memories from that Festival.
What are your plans for the future?
I recently brought out a new solo album 'Homelands' so I am promoting that. I have a new agent in Germany and am looking forward to touring there as a solo artist more often. Although I tend to perform in a lot of big venues, I still love a small intimate setting as this is where I first started. I like to be able to chat to audiences, to find out what connects them to the songs I sing when they have no history or understanding the Gaelic language. I hope to develop more solo touring at home (Scotland). Shine have a December UK tour coming up and we are releasing a 5 track EP 'Fire & Frost' to coincide with that, so Mary, Corrina and I are all looking forward to this. We've a new album to record in January 2016 and are booking another UK tour in May. I love working within the harmonies of Shine. The Chieftains are continuing to tour and in November 2015 I'm going to China with them for the first time. Their energy is amazing, they have no intention of stopping any time soon. I have toured extensively in the States, but the only place I could really see myself living in the US for any length of time is Nashville. I fully intend to develop my relationship with the musicians and writers I have met there. I want to continue to write. Other than that, and I think that's quite a lot, I'll be booking some time at home with my Husband and visiting my Mum and Dad and friends back in Lewis.
I am very fortunate that because of Gaelic song I have travelled the world and have met so many interesting people; and for that I am very grateful.
Read more about Alyth McCormack
http://www.alyth.net
Facebook: http://www.facebook.com/alyth.net
Twitter: http://www.twitter.com/alythmccormack
If you would like to come along to the MG ALBA Scots Trad Music Awards in Dundee's Caird Hall call the Caird Hall box office on (01382) 434940 or buy online.