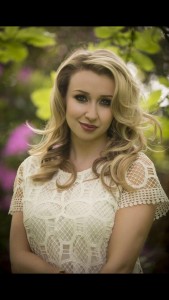 Congratulations to Ainsley Hamill who have been nominated in Gaelic singer of the Year sponsored by Macmeanmna in the MG ALBA Scots Trad Music Awards 2015. Vote now!
We asked Ainsley Hamill of Ainsley Hamill the following questions.
Tell us about yourself
Singing is something that I've always done. From a young age, I've always enjoyed singing to any kind of audience. Not coming from a Gaelic speaking background, my first introduction to Gaelic song was at Hermitage Academy, in Helensburgh, where I attended the school Gaelic Choir. I can't say what exactly drew me to this, but when I was there, I couldn't get enough. I felt such a strong connection to the language and music. This flourished whilst studying Gaelic Song at the The Royal Conservatoire of Scotland, where I obtained 1st class honours BA Scottish Music.
After graduating from the Conservatoire in 2013, I started my professional career as a singer and performer. In this short time, I've had the pleasure of performing, recording, and touring with Folk group Barluath. (Formed in 2010)
As a band we strive to promote the Gaelic language, and give previously unperformed traditional material a stage, and a chance to be heard by a wide range of audiences.
After the Conservatoire, I have continued to further my Gaelic language skills by studying with Sabhal Mòr Ostaig, through distance learning. This method of study allows me to strike the right balance my studies and musical career.
Why are you involved in Scottish music?
I've always been drawn in by traditional music, especially traditional song, due to the timeless nature of the stories.
I feel it's so important, and brings me great joy to carry on the tradition and let these wonderful songs be heard and passed on.
Any particular career highlights?
An Comunn Gàidhealach Gold Medal Final – Mòd Òbain 2015
BBC Radio Scotland Young Traditional Musician of the Year Final – City Halls 2015
Winner of the Silver Pendant – The Royal National Mòd, Paisley 2014
Special Guest with The Royal Scottish National Orchestra, Phil Cunningham and Ally Bain – Glasgow Royal Concert Hall 2011
I've been very lucky to be involved with a project named 'Atlantic Seaway', that demonstrates the migration and influence of traditional Scottish Music on the music of other countries, notably North America. Being one of the lead singers in this project, it has taken me to many festivals, including The New Hampshire Highland Games, Lorient, and many more.
Releasing two albums with Barluath. ('Source' 2012, 'At Dawn of Day' 2015) has been a particular highlight.
Appearing as a special guest lead singer on The National Trust Of Scotland USA Foundation Album.
What are your plans for the future?
To continue performing and developing my skills both as an individual performer and with Barluath. To continue studying, performing Gaelic songs, and striving to keep Gaelic accessible and current to today's generation.
Read more about Ainsley Hamill
http://www.ainsleyhamill.com
Facebook: http://www.facebook.com/ainsleyhamillsinger
Twitter: http://www.twitter.com/AinsleyHamill
If you would like to come along to the MG ALBA Scots Trad Music Awards in Dundee's Caird Hall call the Caird Hall box office on (01382) 434940 or buy online.