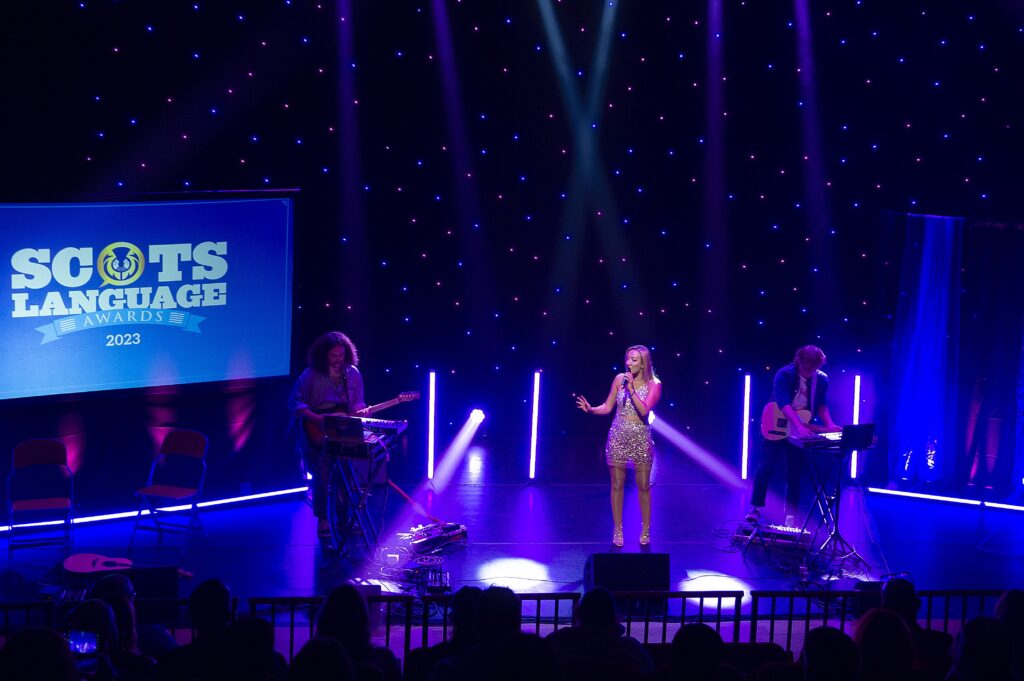 The winners of the Scots Language Awards 2023 were unveiled at a celebratory ceremony last night at Johnstone Town Hall. Held in partnership with Renfrewshire Council, the event saw 13 individuals, projects and businesses out of more than 60 nominees crowned at the annual awards night.
Showcasing the very best of Scots language and culture, the awards, which were first started in 2019, celebrate the importance of Scots language within arts and culture but also within daily life, education, and business.
Scottish playwright and screenwriter Rona Munro, from Selkirk, took home the award for Scots Writer o the Year,sponsored by National Library of Scotland. Her stage credits include The James Plays for NTS, EIF and the National Theatre UK, with screen credits including work from Dr Whoto Silver Bear and BAFTA-winning films.
Scots content creator Lauren Hay was named Scots Media Personality o the Year, while Rebecca Logan from Banff Academy was announced as Scots Teacher o the Year for her dedicated work. Scots Bairns' Book o the Year, sponsored by the Scottish Government, is Guid Mornin! An Guid Nicht!, which was translated by Matthew Mackie and published by Tippermuir Books.
Aberdeenshire teacher Jamie Fairbairn was named Scots Speaker o the Year. Principal Teacher of the Faculty of Humanities at Banff Academy, Jamie has been championing the Scots language at the school for over a decade, and promoting Scots in the media wherever possible.
Monymusk Primary School in Aberdeenshire was awarded Scots School o the Year, sponsored by Itchy Coo / Black & White Publishing, for its dedication to sharing the Scots leid with the next generation. Scots Business o the Year was awarded to J.G. Ross the Baker, which has branches across the North East.
Aberdeen Student Show Ayetanic was named Scots Project o the Year, while Thomas Clark from Bellshill won Scots Book o the Year for Animal Fairm – his translation of George Orwell's 1945 novel, which was published by Luath Press. The category is sponsored by the Scottish Book Trust.
Traditional singer Natalie Chalmers won Scots Performer o the Year. Originally from Fraserburgh but now living in Glasgow, Natalie is keen to keep the bothy ballad traditions of the North East alive across the country. Young Scots Writer o the Year, sponsored by Scottish Book Trust, was awarded to Elise Atkins.
This year's Scots Champion o the Year is Shane Strachan, who is the current Scots Scriever at the National Library of Scotland, creating new work in response to their North East Scots archives. Shane uses his platform and makes regular media appearances to promote the Scots language wherever possible.
The Janet Paisley Lifetime Achievement Award was presented to esteemed singer, songwriter and broadcasterFrieda Morrison, who has spent her life promoting Doric via radio, podcasts and the Doric Film Festival. The coveted award is named after the legendary late Glasgow writer and playwright Janet Paisley, who received the award in 2019.
As well as the award presentations, there was also a host of incredible entertainment on display last night, including a recital from Renfrewshire's poet laureate Shaun Moore, who was appointed as the region's Tannahill Makar last year, talks from esteemed Scottish writers Cat Cochrane and Shane Strachan, and musical performances from celebrated brother duo Euan and Lewis McLaughlin, and talented folk singerIona Fyfe.
A new small grant scheme was also announced at the ceremony, with Creative Scotland supporting Hands Up for Trad to provide 20 grants to artists and performers to make new work in the Scots leid. This will be launched in October 2023, with more information available in due course at www.scotslanguageawards.com.
Scotland's traditional culture, music and arts organisation Hands Up For Trad organise the annual event, and organiser Simon Thoumire said: "It wis jist grand tae be giein richtfu recognition at last nichts ceremony tae the mony fowk, businesses, scuils an ithers wha ower years lang syne an forrit intae oor ain time gie thir aa tae makin shair the Scots leid steys in guid hert. This is the fowk keepin oor guid leid tae the fore in cultur, music an wirds as weel as speikin it wi pride in ilka pairt o thir day tae day livin.
"A muckle thanks tae thaim wha nominatit an votit fir this years award winners an ilka bodie wha cam thegither wi us at the Johnstone Toon Ha. The hertiest guid wishes tae aa the nominees an winners! We ur ay delichtit tae lairn aboot thaim ilka year. Mony thanks as weel tae oor braw airtists an musicians wha makit it a grand nicht that we will aa mind fir a lang time."
Renfrewshire's Provost, Lorraine Cameron, said: "The very best of our Scots heritage and culture was on show at last night's Scots Language Awards and I'd like to take this opportunity to congratulate everyone who took home an award on the night. I was especially proud to see our local performers and schools listed among the nominees.
"The awards help to highlight and celebrate the important role Scots language plays in arts and culture as well as in our broader society and I know it's definitely experiencing a resurgence in Renfrewshire and that interest will only surely grow."
Catriona Hawksworth, Traditional Arts Officer at Creative Scotland said: "Congratulations to all the winners and nominees at this year's Scots Language Awards. The incredible creativity and rich diversity of those working in Scots and highlighted through the Awards underlines the importance of supporting the continued development and celebration of the Scots Language. As part of that development, we're pleased to be working with Hands Up for Trad to provide artist grants for those creating new work in Scots, this year."
Scots language has long been used by authors, spoken in our top films, and is experiencing a contemporary year on year resurgence via social media including a huge new audience of all ages on TikTok, as communities connect and realise their heritage, led by the public, influencers, and media alike.