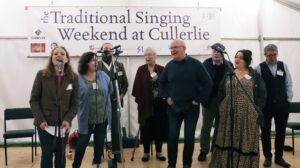 Weel duin tae The Traditional Singing Weekend at Cullerlie wha hae bin nominatit in Scots Project o the Year in the Scots Language Awards. Vote now!
The Scots Language Awards are in the Johstone Toon Ha, Johnstone on 16th September at 7pm. Tickets fir the ceremony are available tae buy here: https://handsup.link/SLA-BuyTickets.
We askit Ian Russell o The Traditional Singing Weekend at Cullerlie thae speirins.
Tell us aboot yersel or yer ootfit.
Oor singing weekend brings thegither the best traditional singers fae across Britain and Ireland. It's been on the go since 2000, and wis stertit by Tam & Anne Reid (wha fermed at Cullerlie) and Ian and Norma Russell (fae Aiberdeen Uni). We're aa aboot the unaccompanied singing, and each year aboot a hundred an fifty fowk gaither in July tae tak pairt in concerts, singing sessions and workshops at wir beautiful site in Historic Kincardineshire (present day Aiberdeenshire).
Whit wis it got ye involvit wi the Scots leid?
North-East Scots is very much a living and spoken tongue here in rural Aiberdeenshire. And we use it aa the time when planning and running the Singing Weekend (and especially when arguin wi each other). We dinna keep coont o these things, but I'd say a guid half o the sangs ye'll hear ower the weekend are in Scots. Wi particularly strong representation fae the local area (doon tae Angus and across tae Moray) Orkney, Glasgow, Edinburgh and The Borders.
Why dae ye feel it is important tae use Scots in everyday life?
It shows we're prood o wir roots and wir heritage, and helps tae gie oor mither tongue (Doric in this pairt o the warld) validity and kudos. Yaising it is the best wye o keepin it alive and thriving.
Dae ye hae a favourite Scots phrase or saying?
I'm shair ye'll have had this reply a pucklie times, but we do say "Haud er Gyan" (Keep It Going) a lot. In the North-East trad context, it means tae continue and pass on the songs, music and heritage of the area. Ian Middleton (a great freend of Tam and Anne Reid) composed a song tae celebrate the beginnings of the Keith Festival in the 1970's, which uses the phrase in the chorus. And it catched on fae there.
Is there a Scots speaker who inspires you?
Wir founders Tam and Anne Reid hid a great Scots wye o spikkin, and were rarely short of something tae say. Each year we hae singers fae across Scotland coming tae Cullerlie, and it's an inspiring celebration of the variety found within the Scots language. Guests in 2023 included Allan Taylor from Alford, Dougie MacKenzie fae Inverness, Robyn Stapleton (a neo-Clayholer fae Gallowa) and Amy Lord from Dunblane. All bringing wi them a knowledge and repertoire o the sangs and dialects o their local areas. Since 2006 the fairmtoon at Cullerlie has been vrocht by Tom and Anne's dochter, Tracey Walker, and her guidman, Eric, wha baith champion the Doric and host the Singing Weekend.
Do you hear Scots spoken regularly in your local area? Have you noticed any changes over time?
Aiberdeen has become mair cosmopolitan. We hae neighbours fae Germany, England, Nigeria and aa ower Scotland. The cooncil has made great efforts tae promote Scots in the schuils, and by yaising it in public spaces on mony's the wa and monument. First Bus (based in Aiberdeen) also displays it prominently in their buses, including excerpts fae sangs and poems.
Ony particlar career heighlichts
Aa the Singin Weekends have been special. Lookin back, we tend tae remember best the really sunny eens, and those that brocht oot particularly memorable performances fae the guests. Mebbe oor maist reminisced is the year we had the writers (and singers) Adam McNaughtan (fae Glasgow) and Cork's Con Fada O Drisceoil sparring each other wi their great comic sangs.
Wha's yer plans fir the days aheid?
We're coming up tae 25 year o the Cullerlie Singing Weekend, and the event is in guid hert. A strong committee wi a great blend of age and experience, a dedicated group o volunteers wha help oot during the Weekend, and an immensely loyal and enthusiastic group o participants mean we aim tae keep rockin along as we are. Providing a platform and gathering place for the traditional sangs o Scotland and beyond.
Read more about The Traditional Singing Weekend at Cullerlie
https://www.abdn.ac.uk/elphinstone/public-engagement/cullerlie.php
Facebook: https://www.facebook.com/profile.php?id=100057446709470
Twitter: http://www.twitter.com/
Instagram: http://www.instagram.com/
The Scots Language Awards are in the Johnstone Toon Ha, Johnstone on 16th September at 7pm. Tickets are available to buy here: https://handsup.link/SLA-BuyTickets There wull be some grand entertainmint oan the nicht tae, includin a recital fae Renfrewshire's poet laureate Shaun Moore,wha wis appointit as the region's Tannahill Makar last year. talks fae weel regairdit Scots scrievers Cat Cochrane an Shane Strachan, alang wi musical performances fae celebratit multi-instumentalist brithers Euan and Lewis McLaughlin, an sangster Iona Fyfe.
If you would like to support Hands Up for Trad in their work with Scottish trad music and musicians please consider supporting our Patreon campaign. We have 3 tiers starting at $1 a month and everything helps support us in our work. Read more at www.patreon.com/handsupfortrad