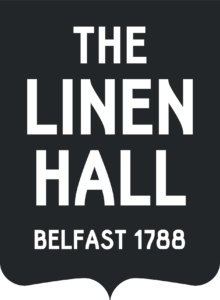 Weel duin tae The Linen Hall wha hae bin nominatit in Scots Project o the Year in the Scots Language Awards. Vote now!
The Scots Language Awards are in the Johstone Toon Ha, Johnstone on 16th September at 7pm. Tickets fir the ceremony are available tae buy here: https://handsup.link/SLA-BuyTickets.
We askit Ani Kanakaki o The Linen Hall thae speirins.
Tell us aboot yersel or yer ootfit.
Founded in 1788, The Linen Hall is the oldest library in Belfast and one of Northern Ireland's most treasured cultural institutions. Today, The Linen Hall is much more than a library. We are an accredited museum and a living archive. We also operate an art and culture space hosting hundreds of events and exhibitions annually.
Whit wis it got ye involvit wi the Scots leid?
Collecting since 1788, and uniquely placed thanks to our history and heritage, The Linen Hall has an expansive Irish & Local Studies collection – including one of the most significant Ulster-Scots collections in Northern Ireland. A notable mention goes to the Gibson Collection – among the largest compilations of materials related to the poet Robert Burns outside of Scotland. This collection was amassed by Andrew Gibson, a former Governor of The Linen Hall. Acquired in 1901, it found its home in the Library. Noteworthy items within the collection were contributed by Burns's granddaughter, Eliza Everitt, including the earliest printing of Burns in Belfast (1787, James Magee), along with copies of his personal publications.
At The Linen Hall, we take immense pride in our Ulster-Scots heritage and remain dedicated to its preservation. We hold the belief that Ulster-Scots constitute a vibrant component of our identity. In collaboration with the Ulster-Scots Agency, we embarked on a new tradition – The Linen Hall Ulster-Scots Writing Competition. This endeavour provides a platform for emerging Ulster-Scots writing talent to gain recognition. The competition will feature two categories, prose and poetry, providing a platform for aspiring writers to showcase their talent. Each category will have a coveted £500 cash prize for the winner, while one runner-up from each section will be awarded £250.
Why dae ye feel it is important tae use Scots in everyday life?
The presence of a vibrant Ulster-Scots community in Northern Ireland is a significant aspect of our local identity. Ulster-Scots holds deep roots within our heritage, and as a cultural organisation, we wholeheartedly endorse the preservation of this invaluable heritage. Our commitment is evident across various fronts, ranging from our extensive collections to our most recent undertaking, the Ulster-Scots Writing Competition. Through these efforts, we are dedicated to safeguarding and celebrating this integral facet of our shared legacy.
Dae ye hae a favourite Scots phrase or saying?
IVERBODY KENS A WEE BAWBEE O' ULSTER-SCOTS AN' THIS IS YOUR CHANCE TAE GET CREATIVE WI' IT!
Is there a Scots speaker who inspires you?
There are so many talented Scots speakers and writers out there and we feel it wouldn't be fair to pick only one. We would dare to say, that we find inspiration to all the amazing poets and writers who take part in The Linen Hall Ulster-Scots Writing Competition every year and share their incredible stories with us.
Do you hear Scots spoken regularly in your local area? Have you noticed any changes over time?
Yes Ulster-Scots is spoken regularly across Northern Ireland.
Ony particlar career heighlichts
N/A
Wha's yer plans fir the days aheid?
We hold the aspiration that our Ulster-Scots Writing Competition will continue to flourish, shedding light on even more talent, and thereby advancing our mission to promote the Ulster-Scots heritage.
Read more about The Linen Hall
https://www.linenhall.com/
Facebook: https://www.facebook.com/TheLinenHallLibrary
Twitter: https://twitter.com/thelinenhall
Instagram: http://www.instahttps://www.instagram.com/the_linen_hall/gram.com/
The Scots Language Awards are in the Johnstone Toon Ha, Johnstone on 16th September at 7pm. Tickets are available to buy here: https://handsup.link/SLA-BuyTickets There wull be some grand entertainmint oan the nicht tae, includin a recital fae Renfrewshire's poet laureate Shaun Moore,wha wis appointit as the region's Tannahill Makar last year. talks fae weel regairdit Scots scrievers Cat Cochrane an Shane Strachan, alang wi musical performances fae celebratit multi-instumentalist brithers Euan and Lewis McLaughlin, an sangster Iona Fyfe.
If you would like to support Hands Up for Trad in their work with Scottish trad music and musicians please consider supporting our Patreon campaign. We have 3 tiers starting at $1 a month and everything helps support us in our work. Read more at www.patreon.com/handsupfortrad