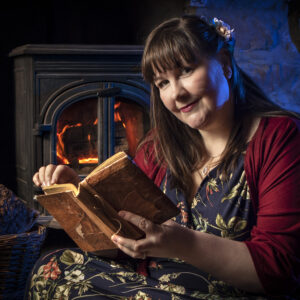 Weel duin tae Susi Briggs wha hae bin nominatit in Scots Speaker o the Year in the Scots Language Awards. Vote now!
The Scots Language Awards are in the Johstone Toon Ha, Johnstone on 16th September at 7pm. Tickets fir the ceremony are available tae buy here: https://handsup.link/SLA-BuyTickets.
We askit Susi Briggs o Susi Briggs thae speirins.
Tell us aboot yersel or yer ootfit.
I'm delichted tae be shortlisted as Scots Speaker o the Year. I have dedicated my hale creative performance career tae promoting Scots language and Scots language literacy. I hae completed a wheen o commissioned wark fer BBC, BBC Scotland, Scots Hoose, Scots Language Centre, Scottish Poetry Library, Itchy Coo Books and other organisations ower the years.
I am a freelance artist wha specialises in performance and scrieving in Scots language.
Author, Musician, Poet, Podcaster and Storyteller.
AUTHOR
My fourth picture book Yum will be published by Foggie Toddle Books and illustrated by Charlotte Brayley. Muckle thanks tae the Scots Publishing Grant via the Scottish Book Trust.
My ither original Scots language wean's books hae been shortlisted for Scots Bairns' Book o the Year at previous Scots Language Awards. Nip Nebs, Nip Nebs and the Last Berry and Wheesht.
As a children's author I visit schuils and promote Scots literacy yaising various schemes and ploys. Fae the enchantin three dimensional Nip Nebs Story Trail tae the Scots Story Seed Workshop wi Scots Word Pixie huntin games.
I love seeing the weans and teachers creatively engaging wi the beauty o Scots language.
MUSICIAN
As a musician I'm ey learnin an performing Scots sangs fer various audiences. That's when I'm no singing wi Wave Blues Band. That is an entirely different energy. I'm affen asked tae perform at Scottish cultural events. I hae a wheen o sangs that I've written masel in Scots that I enjoy performing.
POET
I'm a Scots language poet wha has completed a wheen o commissions for the Scottish Poetry Library, H.E.S and other community organisations.
My debut collection o Scots poetry will be published next year by Drunk Muse Press.
I recently competed in the Loud Poets Poetry Slam Final at the Edinburgh International Book Festival. All my Spoken Word poetry is in Scots language.
My work is also featured in Daunder through Thistles Turas tro Cluarain. This is an ensemble show curated and lead by Christina Stewart. This show recieved a full page skinklan review by Joe Goldblatt in the Scotsman newspaper efter oor debut at the Scottish International Storytelling Festival.
PODCASTER
I co host, write and perform on Oor Wee Podcast with my guid freen Alan McClure. We hae a live version o the show that we perform at schuils, festivals and events.
Oor Wee Podcast is a globally loved show. We feature contemporary, original and auld classic tales and sangs in Scots language. Oor Wee Podcast was shortlisted fer Scots Project o the Year at the Scots Language Awards in 2021.
STORYTELLER
As a storyteller, I'm ey yaising Scots language in my performance. I affen appear as Susi Sweet Pea Fairy Storyteller at festivals and events. I yaise these sessions as opportunities fer Scots language tae be heard, seen and unnerstood by the listener.
I am a registered storyteller and author wi The Scottish Storytelling Centre and the Scottish Book Trust.
I regularly upload Scots language content on tae my various social media platforms like TikTok and Instagram in an aim tae show visibility that Scots language content creators exist.
Whit wis it got ye involvit wi the Scots leid?
I wis born a Scots speaker but didna even ken I had my ain language until I wis in my late twenties. The ainly language I wis formally literate in wis English.
I ey wanted tae be a wean's picture book author. So I scrieved my stories in English. The ainly language I kent tae read and scrieve in.
I scrieved a story cried the Wee Sleepy Sheepy and sent it tae publishers. The ainly Scottish word wis in the main character's name. I wis telt by a publisher tae remove the "Scottish flavour" or they widna publish my story.
Flavour?! My leid isna a seasoning for noodles!
So I rejected them insteid and chynged direction. I began tae translate aw my scrievins intae Scots.
It wis aroon this time I discovered the Itchy Coo Books. Translations o my favourite bairnhood classics. This gied me permission tae haud forrit and create my original picture book stories in Scots.
My late beloved freen Ruthie Redden believed in my work and thegither we created Nip Nebs. Her illustrations for the original picture book aboot Jack Frost wis noticed and published by Curly Tale Books in 2017.
It took us aboot ten years tae get published. Ruthie and I refused tae gie in. We hoped and we kent we wid dae it.
Noo, here I am wi 3 shortlisted Scots Bairns' Book o the Year and another wean's book due tae be published next Spring called Yum. Illustrated by Charlotte Brayley and published by Foggie Toddle Books.
I co host Oor Wee Podcast and perform regularly as a storyteller, musician and a poet.
I'm ey busy an nivver bored.
Why dae ye feel it is important tae use Scots in everyday life?
Why dae I dedicate my career tae Scots language?
Ye could say I dae it oot o spite fer them that said I couldna.
Ye could say I dae it oot o love fer yin o my nation's mither tongues.
My passion burns bricht fer Scots literacy and raising awareness because I want the weans tae hae a sense o pride in wha they are and what they soond like.
Nae mair generations o weans will hae thier melody or wirds shamed or battered oot o them. As lang as I'm creating bonny stories fer them tae hear or read there voices will be seen and validated. And as lang as I'm encouraging creativity wi Scots language in ithers I ken Scots speaking weans will ey hae a sense o belonging.
Dae ye hae a favourite Scots phrase or saying?
Whit's fer ye will no gan by ye
A saying that I come back tae time and again. I've needed a wheen o patience working in this field.
Is there a Scots speaker who inspires you?
Far too many tae mention!
The weans I meet during author visits tae schuils ey inspire me.
The weans that skinkle bricht in their chatter when I tell them they are speaking bonny and clever.
Do you hear Scots spoken regularly in your local area? Have you noticed any changes over time?
Honestly? Rarely dae I hear Scots spoken. I bide in a place whaur we attract a lot o English retirees and holiday hoose owners. So much o the local Scots language is diluted because we are ey code switching tae be understood on the daily. However, I dae hear it sometimes in public spaces when twa Scots speakers are bletherin. There is a wide variety o melody and dialects aroon me every day which is lovely. I've ey had plenty o support fae baith Scots speakers and non Scots speakers.
Ony particlar career heighlichts
I've been shortlisted FIVE times in a row noo fer a Scots Language Award. That's exciting! I've no won ocht yet.
Dinna let that pressure ye fer a vote mind. I'm fair tricket tae get the recognition thus far fer the darg I pit in.
Whit's fer ye will no gan by ye!
Making it tae the I am Loud Poetry Slam Final at the Edinburgh International Book Festival has been a massive thrill. Performing my Scots poetry tae ower 300 fowk at the Edinburgh International Book Festival wis oot o this warld!
Being the guest storyteller at the Guid Crack Club in Edinburgh has been a big dream come true for me this year. Loved every moment o that event.
Launching my fourth original picture book Yum next Spring and my debut poetry collection in Summer are eagerly anticipated highlichts.
My maist treasured memories cam fae the wee interactions wi the weans that I meet at schuil. I keep notes o they memories in a special notebook at hame.
Wha's yer plans fir the days aheid?
Lang term, I howp tae continue tae create quality Scots language content tae be seen, heard and enjoyed fer as lang as I can.
I regularly visualise mair Scots language content tae be available on the mainstream fer weans.
I sincerely howp the darg I hae pit in sae far will inspire animations, audio books and educational resources that promote Scots literacy.
Realistically though, funding fer Scots language in the airts and education are sarely needed tae mak these dreams manifest. We can but howp, campaign and keep up the fecht for oor leid tae be seen and cherished.
Read more about Susi Briggs
http://www.susibriggs.co.uk
Facebook: http://www.facebook.com/
Twitter: http://www.twitter.com/
Instagram: http://www.instagram.com/susibriggsauthor
The Scots Language Awards are in the Johnstone Toon Ha, Johnstone on 16th September at 7pm. Tickets are available to buy here: https://handsup.link/SLA-BuyTickets There wull be some grand entertainmint oan the nicht tae, includin a recital fae Renfrewshire's poet laureate Shaun Moore,wha wis appointit as the region's Tannahill Makar last year. talks fae weel regairdit Scots scrievers Cat Cochrane an Shane Strachan, alang wi musical performances fae celebratit multi-instumentalist brithers Euan and Lewis McLaughlin, an sangster Iona Fyfe.
If you would like to support Hands Up for Trad in their work with Scottish trad music and musicians please consider supporting our Patreon campaign. We have 3 tiers starting at $1 a month and everything helps support us in our work. Read more at www.patreon.com/handsupfortrad