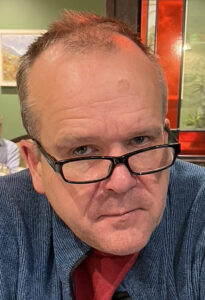 Weel duin tae Alan Millar wha hae bin nominatit in Scots Writer o the Year sponsored by National Library of Scotland in the Scots Language Awards. Vote now!
The Scots Language Awards are in the Johstone Toon Ha, Johnstone on 16th September at 7pm. Tickets fir the ceremony are available tae buy here: https://handsup.link/SLA-BuyTickets.
We askit Alan Millar o Alan Millar thae speirins.
Tell us aboot yersel or yer ootfit.
A'm a journalist, scriever an poet, based in Ballymoney, Co Antrim, this lang syne, bit frae Donegal originally. 57 year aule. Aye had a strang affection fur Ulster-Scots/Scots leid syne a wean. This heezed intae a mair serious interest a wheen o years bak. Ither interests are waakin tha doag, travellin tha yird an apen watter swimmin, maistly in Portrush, bit ony bonnie beach onywhar that hasnae a rip current, 'ill dae richtly.
Whit wis it got ye involvit wi the Scots leid?
A'm frae yin o tha Ulster-Scots 'hairtlan' airts, Tha Laggan district o East Donegal, an aye had an interest fur as lang as Ah can min. Mae interest in tha posey o tha Ulster-Scots tradeechion, makers lik United Irishmen James Orr, an Samuel Thomson, wha visited Rabbie Burns in 1794 sterted aboot 15 year ago. Ah foutered at Scots leid scrievin, but maistly scrieved English tae aboot 2016. Noo, Ah scrieve maist o mae posey in Ulster- Scots.
Why dae ye feel it is important tae use Scots in everyday life?
If ye dinnae use it ye lose it. Ah hae noteeced, this past wheen o year, when folk kens that yer an Ulster- Scots leid advocate, they are mair apen tae use tha leid thursells. Braid spoke yins are mair likely tae bae thursells, an naw try an taak sae ca'd 'proper' an yins wha isnae that braid, 'ill throw Scots wurds intae thair conversation, cause they ken Ah micht appreciate it.
A'm a journalist, bae dai darg, an Ah sterted a column ca'd Leid Loanen last year. Ah use it lik a listenin lug tae tha leid community, hokin oot wurds, ye hardly iver hear, an sayins still used, bit aiblins, naw bae a gye nummer o folk – then pittin tha articles on social media – tha nummer o folk whase memories gits jogged – some o tha threeds wi folk chattin aboot tha leid, tha leid wittins that kythe oota folk, they niver thocht they had – oddtimes is naethin shoort o byordinar. It bigs confidence an they tak somethin awa, that'll bide wi them. If yer usin tha leid, ither scrieven or chattin, it rubs aff on ithers, thare's nae doot.
Dae ye hae a favourite Scots phrase or saying?
Ye cannae git breeks aff a kiltie – meanin ye cannae git trousers aff a boady wearin a kilt – it's a better yin fur me than tha better kent 'ye cannae mak a silk purse oota a sow's lug'.
Is there a Scots speaker who inspires you?
Thare's naw yin Scots leid scriver in parteecular wha gart me tak up posey. R.L. Stevenson gied me a wee jundie aiblins. Kidnapped is jist wunnerful, wi tha leid dialogues. Sam Hanna Bell as weel, December Bride has Ulster-Scots dialogues that are jist beautiful.
O folk leevin, Dr Philip Robinson o tha Ulster-Scots Language Society, is tha faither o tha revival o tha leid in Ulster. His reprinted editions, frae tha 1990s, o the Poems o Samuel Thomson, James Orr an Hugh Porter, sit doag lugged, an annotated on mae shelves. Tha Ulster-Scots Academy Wabsteid is a muckle resource. Thare's nae equal in Ulster tae his dedication, ower decades. Ah havnae had as monie daelins wi him, this last wheen o year, bit he wuz an important figure on mae leid journey.
A'm only familar wi tha leid scene in Scotlan a couple o year. Bit Ah hae draaed smeddum an poustie frae tha wye Wullie Hershaw, o tha Scots Leid Associe, treats tha leid lik a leid, hauds farrit wi a full strang vocabulary. Isnae afeart tae risk confoundin readers – fur a scriever shouldnae bae pit aff bae what he/she thinks a reader disnae know. Folk should bae encouraged mair tae big thair vocabulary an reclaim words naw used sae much nooadays.
Do you hear Scots spoken regularly in your local area? Have you noticed any changes over time?
Ah wuz reared in Donegal, noo leevin in Ballymoney, Co Antrim, baith strang areas fur tha leid, Ah listen tae folk usin tha leid ilka dai. Thare is a wile variety o braidness, some folk arnae braid at aal, ithers hae a far stranger vocabulary. But even tha yins that arnae wile braid, aye hae glisks o Ulster-Scots aboot them – tha wheen o wurds or cúpla focal, as tha Irish gaes. It tends tae bae aule folk is tha braider, youngeens tend tae hae less, sadly. Bit thon said, some young folk are brave an braid tae.
The big positive change ower tha past ten year, is withoot doot, social media, allooin folk forums tae chat an share wi ithers. Amang tha monie gye guid effects, is that it alloos folk tae see that wurds they are usin, are pairt o a leid, an naw bad English, or a localism. Fur example tak tha wurd 'piece' – Thare wuz a time when Ah thocht thon was a Donegal/Derryism, naw a Scots word, fur yer bitta bread an butter- or aiblins yer jam piece.
Scrievein wise thare are a byordinar nummer o new scrievers in Ulster at tha present time, wi muckle smeddum, an breenjin owre aule merches, raikin ayont tha Hamely Tongue wye o't. Its mair nor guid tae bae pairt o that – Ulster-Scots leid has niver bin better, frae this point o view.
Ony particlar career heighlichts
In 2021, winnin baith the Scots Leid Associe's Hugh McDiarmid Tassie, an the inaugural Belfast Linenhall Library Ulster-Scots short story competition, in tha yin year, wur gye guid heezes.
Mae first collection Echas frae tha Big Swilly Swally, wuz published in May, which A'm weel content aboot.
Wha's yer plans fir the days aheid?
Leid wise, keep daen what A'm daen. A'm haudin farrit, wi mae second collection, which Ah hope tae hae oot, afore too lang, an a novel forbye.
Read more about Alan Millar
https://northernstarmedia.org
Facebook: https://www.facebook.com/profile.php?id=100009476347754
Twitter: http://www.twitter.com/@MillarTap
Instagram: http://www.instagram.com/mulendinarius
The Scots Language Awards are in the Johnstone Toon Ha, Johnstone on 16th September at 7pm. Tickets are available to buy here: https://handsup.link/SLA-BuyTickets There wull be some grand entertainmint oan the nicht tae, includin a recital fae Renfrewshire's poet laureate Shaun Moore,wha wis appointit as the region's Tannahill Makar last year. talks fae weel regairdit Scots scrievers Cat Cochrane an Shane Strachan, alang wi musical performances fae celebratit multi-instumentalist brithers Euan and Lewis McLaughlin, an sangster Iona Fyfe.
If you would like to support Hands Up for Trad in their work with Scottish trad music and musicians please consider supporting our Patreon campaign. We have 3 tiers starting at $1 a month and everything helps support us in our work. Read more at www.patreon.com/handsupfortrad