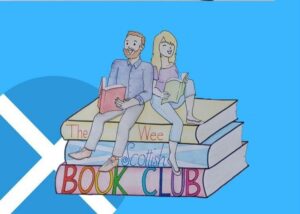 Weel duin tae The Wee Scottish Book Club wha hae bin nominatit in Scots Media Person o the Year sponsored by Dictionaries of the Scots Language in the Scots Language Awards. Vote now!
The Scots Language Awards are in the Gardyne Theatre, Dundee on 24th September at 7pm. Tickets for the ceremony are available to buy here: https://dundeeboxoffice.co.uk. If you cannae make it you can hae a swatch o it online. You can a buy an online ticket here for that.
We askit Scott Shields o The Wee Scottish Book Club thae speirins.
Tell us aboot yersel or yer ootfit.
The Wee Scottish Book Club podcast was started in the summer of 2021 with the two of us loving talking about Scottish Lit and wanting to take our chats to a bigger audience. Since starting to record in September 2021, we have been promoting Scottish authors, books and events on our podcast ever since. Episodes are available to listen to on Spotify, Apple and all other good and evil podcast providers.
The most special episodes have involved Scottish writers, poets and reading enthusiasts coming on the show to talk about their work or love of reading. We have had great feedback from these episodes from both the guests and audience. We can't wait to be doing more of this in the coming months.
Whit wis it got ye involvit wi the Scots leid?
We got chatting in the first place over Instagram when Natalie started The Scottish Book Club, a book group that meet every two months to talk about a chosen Scottish novel. We developed a good friendship, even though neither of us will admit to this, and spoke about our reading regularly. So, one day we decided to record a podcast.
After recording the first episode and putting it out, we received some great feedback from people who love Scottish lit as much as we do. So, it has lit a fire in us both and we just want to use our platform to get Scottish books and Scottish Authors the biggest audience they possibly can – because they deseve it!
Ony particlar career heighlichts
Hearing about Ely Percy almost falling off a treadmill while listening to the podcast is up there. However, we have loved the weekly recordings. Whether it be just the two of us, or we have a great guest on (the likes of Stephen Watt, Emma Grae and Colin Burnett were involved last season) we have just had the best time. Being recognised for an award at the Scots Language Awards has been great and we can't wait to share this amazing event with so many great nominees.
Wha's yer plans fir the days aheid?
As we write this, we are planning for our first recording session of season two in just a couple of days. With plans to make the show bigger and better, we can't wait to hit the record button soon!
Read more about The Wee Scottish Book Club
https://open.spotify.com/show/0jjZmU1BBBK9DyidfUxnZv?si=oonmdsfSQwiIgnXiaPAQhg
Facebook: http://www.facebook.com/
Twitter: http://www.twitter.com/
Instagram: http://www.instagram.com/scott.you.reading
The Scots Language Awards are in the Gardyne Theatre, Dundee on 24th September at 7pm. Tickets are available to buy here: https://dundeeboxoffice.co.uk Performing on Saturday 24th September include Bruce Fummey, Hamish Macdonald, Beth Malcome and Robyn Stapleton.
If you would like to support Hands Up for Trad in their work with Scottish trad music and musicians please consider supporting our Patreon campaign. We have 3 tiers starting at $1 a month and everything helps support us in our work. Read more at www.patreon.com/handsupfortrad