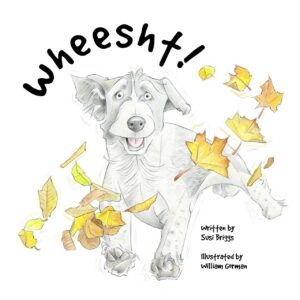 Weel duin tae Susi Briggs an Wheesht!wha hae bin nominatit in Scots Bairns' Book o the Year sponsored by Scottish Government in the Scots Language Awards. Vote now!
The Scots Language Awards are in the Gardyne Theatre, Dundee on 24th September at 7pm. Tickets for the ceremony are available to buy here: https://dundeeboxoffice.co.uk. If you cannae make it you can hae a swatch o it online. You can a buy an online ticket here for that.
We askit Susi Briggs thae speirins.
Tell us aboot yersel or yer ootfit.
Aaarrooo! Shug the dug thinks he is a fantoosh singer and sings aw the time. His faimily keep telling him tae haud his wheesht but he hasnae got yin. Will his pals in the gairden help him?
Wheesht wis originally written fer Scots Hoose website in March 2020 just afore the lockdoons. I wis inspired tae write Wheesht efter learning tae sing Hound Dog by Big Mamma Thornton wi the Wave Blues Band. I wid ey dae a big howl at the end o the sang. AROOOOROOO!
The story came tae me late yin nicht when I couldna sleep.
The illustrations were inspired by a bonny rescue dug. She wis gey close tae perishing in Romania when Scruffy Dog Rescue took her in and saved her life. Aptly named, Charity is noo loved and is as healthy as she can be. She bides wi freens o mine in my region. Scruffy Dog Rescue benefit financially fae every profitable book sale. A token o gratitude fer Charity modeling as Shug the dug fer illustrator Will Gorman.
Wheesht wis published in 2022 wi the help o the Scottish Publishing Grant. Illustrations are by Will Gorman and the book is published by Foggie Toddle Books.
I'm also the author o Nip Nebs and Nip Nebs and the Last Berry. These hae been previously shortlisted fer Scots Bairns Book o the Year. I contributed tae Itchy Coo Book translations o fairy tales in Scots including the collections o Grimms, Hans Christian Andersen and the recent Aesop's Fables.
I also create audio stories wi ma pal Alan McClure on the Oor Wee Podcast show. We perform the stories and sangs, original and classic in the Oor Wee Podcast Live show at schuils and events. Oor Wee Podcast was shortlisted for a Scots Language Award last year. You can fin some o my ither audio wirk fer weans on the BBC Scotland website Stories in Scots.
I hae a passion fer poetry and I'm the first Wean's Makar o the Hampden Collection. I hae performed my Scots poetry at various places including The Scottish Poetry Library, The I am Loud Best of Fringe show and the Scottish International Storytelling Festival. I also host Brave New Words a popular monthly spoken word night in my local region.
I regularly lead Scots Story Seed Workshops. I created these workshops tae nurture Scots Literacy in schuils and other places. I'm ey thinking o weys tae keep the weans interested in learning.
Whit wis it got ye involvit wi the Scots leid?
I scrieved a wean's story ower a decade ago cried The Wee Sleepy Sheepy. It wis written in English cos that's aw I kent hoo tae write in. It had ne'er occurred tae me tae write in ony ither language. The ainly Scots word wis in the title. The word "Wee"
It kept getting rejected by publishers. Yin day I got a publisher's rejection later saying that they wid publish my story if I would resubmit the story and "omit the Scottish flavour."
The wey I spoke was a flavour? Akin tae a pot noodle seasoning? I dinna hink sae!
Naw! I chose fae that day forrit tae create in Scots and mak shair weans could see their voices in exciting new picture book stories that were accessible and fun.
Ony particlar career heighlichts
I meet hunners o braw folk in my work and hae fun adventures being pairt o events. My biggest highlichts happen when my audience is in front o me. The weans!
When I see them mirror back my stories either by dressing up as the characters fae my books, acting oot pairts o the Oor Wee Podcast show or illustrating my stories.
My maist recent joy was hearing fae a schuil wean wha said they loved Wheesht cos it wis "in my ain voice."
Another braw highlicht wis reading my book fae the tap windae o Moat Brae tae the giant puppet Storm.
Wha's yer plans fir the days aheid?
I'm hoping tae see my Scots language stories animated fer the mainstream. There's no enough visibility o Scots language fer weans in the mainstream. I've nae idea hoo tae gan aboot that but what I dae hae plenty o is hope. I hoped and kent my Scots language stories wid become published picture books. I didna ken hoo it wid happen but they did, so why no this next dream as weel?
Read more about Susi Briggs
http://www.susibriggs.co.uk
Facebook: https://www.facebook.com/groups/1323927334625193/?ref=share
Twitter: http://www.twitter.com/
Instagram: http://www.instagram.com/
The Scots Language Awards are in the Gardyne Theatre, Dundee on 24th September at 7pm. Tickets are available to buy here: https://dundeeboxoffice.co.uk Performing on Saturday 24th September include Bruce Fummey, Hamish Macdonald, Beth Malcome and Robyn Stapleton.
If you would like to support Hands Up for Trad in their work with Scottish trad music and musicians please consider supporting our Patreon campaign. We have 3 tiers starting at $1 a month and everything helps support us in our work. Read more at www.patreon.com/handsupfortrad