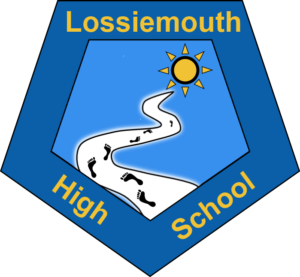 Weel duin tae Lossiemouth High School wha hae bin nominatit in Scots School o the Year sponsored by Itchy Coo and Black and White Publishing in the Scots Language Awards. Vote now!
The Scots Language Awards are in the Gardyne Theatre, Dundee on 24th September at 7pm. Tickets for the ceremony are available to buy here: https://dundeeboxoffice.co.uk. If you cannae make it you can hae a swatch o it online. You can a buy an online ticket here for that.
We askit Fiona McAllister o Lossiemouth High School thae speirins.
Tell us aboot yersel or yer ootfit.
Lossiemouth High School is a community school and an integral part of the Lossiemouth, a coastal town which sits on the Moray Firth in the north of Scotland. It is a truly beautiful part of the country and we have a beautiful new school that is shared between school and our community in the school day. Our catchment area serves not only the town itself but also a string of villages along the coast, spreading across from Llanbryde in the east to the traditional fishing villages of Hopeman and Burghead in the west.
Lossiemouth High School sits next to RAF Lossiemouth, so we welcome many pupils whose parents are in the forces. About 1/3 of our school roll is Forces children. Exploring Scots language in addition to more familiar subjects is a way of welcoming and including all children, whether new to the area or otherwise.
Scots language in the school has grown over the years. Pupils have been enthusiastic and vocal in support of the subject and it is embedded in our S1-S3 curriculum in the English Department. In addition, the school has introduced the Scottish Studies Award across the whole S3 Cohort. We aim to have the whole cohort present for both Scottish Studies and Scots Language Awards.
Our present and past Scots Language Award candidates have been more than impressive in their dedication to their own learning, particularly given that due to Covid / other matters, they have studied for this Award entirely outwith their timetables and as an additional extra on top of all their other work. Their resilience, determination and love of the Scots language could not be demonstrated any more clearly. We are lucky to have such determined learners who in turn have very supportive parents encouraging them. Our pupils really do show real dedication above and beyond – despite all their other commitments.
Whit wis it got ye involvit wi the Scots leid?
The chance to pass on a love for one of our languages, its literature and the history of Scotland itself meant many opportunities have been offered to promote and share it with our students. Those opportunities have been enthusiastically welcomed. The school has been very supportive of new initiatives and very welcoming of any visitors, challenges and chances sent our way.
Pupils say they became involved to develop and explore a sense of identity; and to learn more about Scots culture and Scotland's history. They feel they have developed the confidence to celebrate a part of themselves and our culture. In addition, the Wider Achievement Award in Scots Language has shown them that their learning in Scots is valued. Pupils find it rewarding and enjoyable to read, write and talk in Scots. As one said: "It gives us a better sense of who we are. It helps with linguistic skills and develops an appreciation of the origins and links of languages. We have stronger communication and linguistic skills – and a good understanding of the etymology of words." Another pupil said: "It helps me understand so much better where half my family are coming from."
Lossiemouth High School students are pleased they have this other string to their bow and know that it will show greater breadth of learning and experience on future CVs. These pupils are the future of Scots – their passion and enthusiasm will carry the flame of the Scots language into the future. However, the biggest thing they report right now is that studying for The Scots Language Award is interesting and a lot of fun!
Ony particlar career heighlichts
We've had loads of really interesting people give workshops / talks to pupils, including Matthew Fitt, Jess Smith and Bruce Eunson.
Several of our Pupils have won National Scots Writing competitions, notably Isla Malcolm and Jamie Fiske.
Fiona McAllister was nominated as Scots Language Teacher of Year 2020.
Our school helped Laura Green assess the new website from the Scots Language Centre by navigating the site then feeding back their opinions on it.
It is an absolute pleasure watching pupils blossom as they learn and grow in confidence. Those who add another qualification from this are a bonus!
Wha's yer plans fir the days aheid?
We will continue to offer Scots Language and hope eventually have it timetabled. We look forward to Scots being added to the curriculum nationwide.
We will complete the pilot whole school Wider Achievement Award with our S3 cohort, who are now doing Scottish Studies. We aim to have at least half of those present for Dual Wider Achievement Awards by completing the additional requirements for the Scots Language Award.
Scots is in embedded in our BGE English curriculum. We aim to develop this into our senior curriculum and present a greater number of candidates for the Scots Language Award in future years.
On a wider note, pupils who completed the Higher Scots Language have been very vocal in requesting an AH in Scots to create a link between school and university-level study. We hope this is something that the SQA will consider introducing in the near future.
Read more about Lossiemouth High School
https://www.lossiehigh.co.uk/
Facebook: http://www.facebook.com/
Twitter: http://www.twitter.com/@LossieHigh
Instagram: http://www.instagram.com/
The Scots Language Awards are in the Gardyne Theatre, Dundee on 24th September at 7pm. Tickets are available to buy here: https://dundeeboxoffice.co.uk Performing on Saturday 24th September include Bruce Fummey, Hamish Macdonald, Beth Malcome and Robyn Stapleton.
If you would like to support Hands Up for Trad in their work with Scottish trad music and musicians please consider supporting our Patreon campaign. We have 3 tiers starting at $1 a month and everything helps support us in our work. Read more at www.patreon.com/handsupfortrad