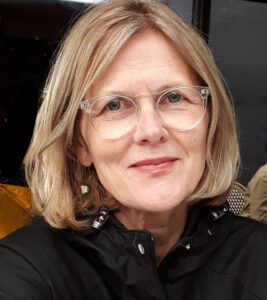 Weel duin tae Lesley Benzie wha hae bin nominatit in Scots Writer o the Year sponsored by National Library of Scotland in the Scots Language Awards. Vote now!
The Scots Language Awards are in the Gardyne Theatre, Dundee on 24th September at 7pm. Tickets for the ceremony are available to buy here: https://dundeeboxoffice.co.uk. If you cannae make it you can hae a swatch o it online. You can a buy an online ticket here for that.
We askit Lesley Benzie o Lesley Benzie thae speirins.
Tell us aboot yersel or yer ootfit.
Ah wis born an broucht up in Aiberdeen, spikkin Aiberdonian Doric an ah lived there till ah wis 31. In 1990 ah moved tae Glesga wi ma partner and 3 bairns. Aifter ah moved it wis aye haein tae modify foo ah spoke that started me aff writin in Doric Scots. Ah jyned Castlemilk Writers Group an in the mid 90's tae ma great surprise ah began tae get published in various magazines an anthologies. Then in 2000 ma first collection o poetry, Sewn Up, wis published. Unfortunately, seen aifter due tae significant chynges in ma personal/domestic circumstances ah wis mair caught up wi life's necessities an there wis a lang hiatus wi only intermittent periods o writin. Then in 2018/19, ah wis able tae gie mair focussed attention tae aat passion again. An gan part-time at ma job in 2020 has made aat even mair possible, sae ah'm scrievin an performin mair than iver.
Whit wis it got ye involvit wi the Scots leid?
Fan ah first began writin in Doric Scots in the early 90's, oot-wi North-East Scotland an a relatively sma group o fowk advocatin for Doric, the language wis regarded bi mony as a novelty o a bygone era. At that time, it wis as a result o ma native tongue bein treated as sic, fan ah moved tae Glesga, alang wi the memory o bein discouraged an reprimanded durin ma skweel days that wis ma inspiration tae begin ma writin career in Doric. Although, at the time, es wis a deeply personal an instinctive response, ah later discovered it wis pairt o a lang an growin heritage o resistance tae external an internal linguistic/cultural suppression an erosion. There is a proverb that says, "Tìr gun teanga, tìr gun anam – a land withoot a language is a land withoot a soul". Fur me this reflects the importance o advocatin for an celebratin Doric Scots, as weel as the historical an linguistic context (Gaelic, Norse, Scots, English) oot o which it grew.
Ony particlar career heighlichts
Bein pairt o the 'Two Weegies, One Quine, an Edinburae Hoor' tour, funded bi the Scottish Arts Council, far we did a puckle o performances in New York, culminatin at the Nuyorican Poetry Cafe. Ma first poetry collection in ma native Aiberdonian (I hasten tae add ah didna even ken foo tae scrieve in Doric properly haein only iver written in English) wis published in 2000 tae significant acclaim. Then hearin the first poem ah iver wrote read oot on BBC radio.
Mair recently ma second collection Fessen/Reared wis published in 2020. Seen aifter it, in 2021 a collaborative collection o 3 poets caad, Wanderlust Women, wis published an that's resulted in performin in mony events, festivals, an in ither countries. In 2022 ah wis delighted fan 'Norlan Lichts' a Doric collaborative collection wi the inimitable Sheena Blackhall an Sheila Templeton wis published. In the last couple o years ah wis also affa pleased tae be runner-up in the McCash Scots Poetry Prize 2020. In 2021 ah wis a contributor tae the Deid Guid Scots Project, an shortlisted in baith the Main and Scots categories in the Wigtown Poetry Prize. An noo ah'm pretty ecstatic tae be nominated for the Scots Writer o the Year Award!
Wha's yer plans fir the days aheid?
Ower the next couple o years, ah hope tae get a novel ah've been workin on published (the main character is a quine fae North-east Scotland).
Ah also hope tae publish anither collection o ma ain poems as weel as bein involved in anither collaborative collection wi the Wanderlust Women. As weel as that, ah hope tae get oot an aboot in Scotland, the UK an Europe an if possible further afield sharin ma scrievin an Doric Scots at ivry opportunity.
Read more about Lesley Benzie
http://www.rymour.co.uk/lichts.html
Facebook: http://www.facebook.com/
Twitter: http://www.twitter.com/
Instagram: http://www.instagram.com/lesleybenzie
The Scots Language Awards are in the Gardyne Theatre, Dundee on 24th September at 7pm. Tickets are available to buy here: https://dundeeboxoffice.co.uk Performing on Saturday 24th September include Bruce Fummey, Hamish Macdonald, Beth Malcome and Robyn Stapleton.
If you would like to support Hands Up for Trad in their work with Scottish trad music and musicians please consider supporting our Patreon campaign. We have 3 tiers starting at $1 a month and everything helps support us in our work. Read more at www.patreon.com/handsupfortrad