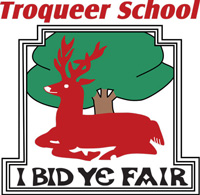 Weel duin tae Troqueer Primary School, Dumfries wha hae bin nominatit in Scots School o the Year sponsored by Itchy Coo and Black and White Publishing in the Scots Language Awards. Vote now!
We askit Colin Mackenzie o Troqueer Primary School, Dumfries thae speirins.
Tell us aboot yersel or yer ootfit.
Troqueer is a primary schuil an nursery in Dumfries, on the Gallawa side o the Nith Water. Oor schuil motto is 'Aim high and be the best you can be'. Monie o oor staff, pupils, an parents/carers speak Scots an we promote it in oor schuil in a wheen o weys. We hae lessons lairnin aboot the Scots leid; we yaise it in oor day-tae-day teachin an interactions wi the weans; an we gie pupils o aa ages the opportunity tae tak pairt in local an national sangshaws.
Whit wis it got ye involvit wi the Scots leid?
Oor journey wi Scots has been taen forrit by Mrs Johnston wha has inspired hunners o weans wi her luve o the Scots leid an performin. The lave o us couldnae dae ocht else but follae alang! In the last echt year or thereawa, we've gaun frae strength tae strength daein mair an mair wi Scots: poetry clubs, author workshops, sangshaws an muckle mair.
Ony particlar career heighlichts
The best thing aboot yaisin Scots in schuil is seein the weans enjoyin it an bein creative wi it. We've had a hantle o success at local an national sangshaws, includin a pupil winnin oweraa primary performer at the Robert Burns World Federation Schools' Competition.
A personal heighlicht o mine wis in a Scots leid session wi poet Stuart Paterson whan a pupil came up wi her ain Scots wird for a llama – lanky gobber!
Wha's yer plans fir the days aheid?
We're luikin forrit tae taen pairt in the Dumfries and District Music Festival in their Scots leid categories. It's been a lang time since we've been able tae perform in front o audiences an cannae wait tae get stairted again.
Read more about Troqueer Primary School, Dumfries
https://www.troqueerprimaryschool.co.uk/
Facebook: https://www.facebook.com/Troqueer-Primary-School-and-Nursery-Sharing-Page-106581187713906
Twitter: https://twitter.com/TroqueerPrimary
Instagram:
The Scots Language Awards are in the Gardyne Theatre, Dundee on 25th September at 7pm. Tickets are available to buy here: https://www.gardynetheatre.org.uk/show/the-scots-language-awards/ Performing on Saturday 25th September include Ellie Beaton, Anna Stewart, Gemma Johnson and more to be announced.
If you would like to support Hands Up for Trad in their work with Scottish trad music and musicians please consider supporting our Patreon campaign. We have 3 tiers starting at $1 a month and everything helps support us in our work. Read more at www.patreon.com/handsupfortrad