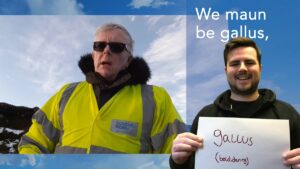 Weel duin tae The Very Dab, Scottish Water wha hae bin nominatit in Scots Business o the Year sponsored by Scots Language Society in the Scots Language Awards. Vote now!
We askit Stuart Paterson o The Very Dab, Scottish Water thae speirins. Vote now!
Tell us aboot yersel or yer ootfit.
Check out this braw poem 'The Very Dab', written especially for us to celebrate Burns Night by acclaimed poet Stuart A. Paterson (who enjoys a drop of Scottish water with his dram). Read by our very own David Anderson while working on Shetland. #BurnsNight2021. music copyright: B.A.R
Read more about The Very Dab, Scottish Water
https://www.scottishwater.co.uk
The Scots Language Awards are in the Gardyne Theatre, Dundee on 25th September at 7pm. Tickets are available to buy here: https://www.gardynetheatre.org.uk/show/the-scots-language-awards/ Performing on Saturday 25th September include Ellie Beaton, Anna Stewart, Gemma Johnson and more to be announced.
If you would like to support Hands Up for Trad in their work with Scottish trad music and musicians please consider supporting our Patreon campaign. We have 3 tiers starting at $1 a month and everything helps support us in our work. Read more at www.patreon.com/handsupfortrad