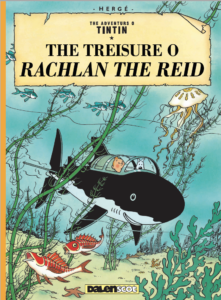 Weel duin tae The Treisure o Rachlan the Reid, by Susan Rennie wha hae bin nominatit in Scots Bairns' Book o the Year sponsored by Scottish Government in the Scots Language Awards. Vote now!
We askit Susan Rennie o The Treisure o Rachlan the Reid, by Susan Rennie thae speirins. Vote now!
Tell us aboot yersel or yer ootfit.
I am a lexicographer, scriever an translator. In the past I've warked for the Scottish National Dictionar Association an been a lecturer in Scots an English at Glasgow University. I've helped create a clanjamrie o Scots resources, includin the online Dictionar o the Scots Leid, the Scots Scuil Dictionar on CD, an the first Scots spellchecker (CannieSpell), an I recently stertit a Historical Thesaurus o Scots projeck. I wis ane o the co-foonders o Itchy Coo an I've publisht mair nor twenty buiks for bairns in Scots, includin my Scots translations o Tintin.
Whit wis it got ye involvit wi the Scots leid?
I grew up hearin baith Scots an Scottish English frae different generations in my faimlie, but awbody unnerstuid ane anither an naebody dingit doun the Scots leid. My dad passed ontae me his deep luve o Scots words an literature. His mither wis a Gaelic speaker, but her generation wis taucht tae be shamed o that an she didna pass on the leid. He didna want the same tae happen tae Scots. He gied me my first Scots dictionar whan I left hame tae gang 'doun sooth' sae I widna forget the words. I first read Scots in prent in the Sunday Post whan I wis wee, an years syne I studied the history o Scots at the university an wis captivatit by the richness o the leid. Whan I warked at the Scottish National Dictionar, I got mair involved wi Scots leid campaigns an stertit tae scrieve in Scots mysel. It's braw whan ye gang intae scuils tae enthuse aboot Scots an a bairn tells ye they didna realise Scots 'wisna juist slang'. Attitudes tae Gaelic turned aroond in a couple o generations. I howp the same can happen wi Scots.
Ony particlar career heighlichts
Bein chief editor o the first Dictionar o the Scots Leid (dsl.ac.uk). It wis a huge task by a sma team o lexicographers tae digitise 22 volumes o text in three year, but we did it – an made it available free online for awbody tae use.
Bein ane o the three original foonders o Itchy Coo. There wis naething like it at the time an that first batch o bairns' buiks, includin ma ain 'Animal ABC', were gey excitin tae wark on.
My buik on Jamieson's Scots Dictionar bein shortlistit for a Saltire buik award in 2012. I dedicatit the buik tae my dad in memory o his luve o Scots.
Bein on the team that drew up the new SQA Scots Language Award. I luve helpin bairns be mair confident in their use of Scots, sae tae be pairt o that wis gey special.
Publishin my first Tintin buik, 'The Derk Isle', which wis my first piece o Scots translation. I'm awfu glad I digitised the DSL nou, as it's essential for findin braw words for Captain Haddie's curses!
Wha's yer plans fir the days aheid?
I'll be feenishin anither Tintin translation (L'Étoile Mystérieuse), nummer echt in the series. Forby that, I'll be warkin on my edition o Boswell's Scots Dictionar. I'm excitit tae share my research on that, as the mansucript shaws that Boswell wis fain o Scots an ettlin tae preserve the leid. The new Tintin will be oot later this year, an I howp the Boswell buik will follae in 2022. Ye'll can track their progress at http://tintinscots.com an http://boswellian.com.
Read more about The Treisure o Rachlan the Reid, by Susan Rennie
http://susanrennie.co
Facebook:
Twitter: http://twitter.com/RennieSusanC
Instagram: http://www.instagram.com/
The Scots Language Awards are in the Gardyne Theatre, Dundee on 25th September at 7pm. Tickets are available to buy here: https://www.gardynetheatre.org.uk/show/the-scots-language-awards/ Performing on Saturday 25th September include Ellie Beaton, Anna Stewart, Gemma Johnson and more to be announced.
If you would like to support Hands Up for Trad in their work with Scottish trad music and musicians please consider supporting our Patreon campaign. We have 3 tiers starting at $1 a month and everything helps support us in our work. Read more at www.patreon.com/handsupfortrad