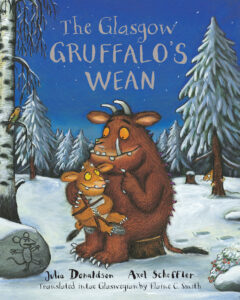 Weel duin tae The Glasgow Gruffalo's Wean wha hae bin nominatit in Scots Bairns' Book o the Year sponsored by Scottish Government in the Scots Language Awards. Vote now!
We askit Itchy Coo Elaine C. Smith o The Glasgow Gruffalo's Wean thae speirins.
Tell us aboot yersel or yer ootfit.
Elaine C. Smith, actor, comedian, entertainer, singer, writer and political campaigner.
Whit wis it got ye involvit wi the Scots leid?
It seems absolutely essential to me that we keep alive the language and dialects of Scotland and do as much as we can to allow them to flourish. The rich, descriptive dialects of all regions of Scotland are precious but have been under threat for many years. I was brought up in a time when speaking local language and dialect was viewed as slovenly, lazy and base and all were encouraged through the educational system to learn and speak English with a not too strong or guttural Scottish accent. The older I became I realised – especially in drama college – that I was being taught to feel ashamed of my way of speaking, my language and my culture. As a country we have done well to defy the domination of one way of speaking and have become trilingual – we speak English, Scots and our local dialect and that should be celebrated and that's why I was so delighted to write in Glaswegian.
Ony particlar career heighlichts
Hunners thankfully….been very lucky!
Wha's yer plans fir the days aheid?
And planning hunners of ways to enjoy life – hopefully!
Read more about The Glasgow Gruffalo's Wean
http://www.itchy-coo.com
The Scots Language Awards are in the Gardyne Theatre, Dundee on 25th September at 7pm. Tickets are available to buy here: https://www.gardynetheatre.org.uk/show/the-scots-language-awards/ Performing on Saturday 25th September include Ellie Beaton, Anna Stewart, Gemma Johnson and more to be announced.
If you would like to support Hands Up for Trad in their work with Scottish trad music and musicians please consider supporting our Patreon campaign. We have 3 tiers starting at $1 a month and everything helps support us in our work. Read more at www.patreon.com/handsupfortrad