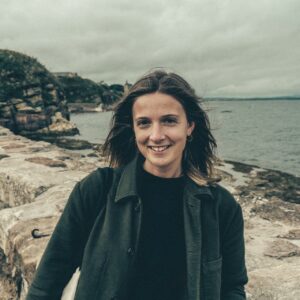 Weel duin tae Rosie Bircham wha hae bin nominatit in Scots Teacher o the Year sponsored by Scottish Qualifications Authority in the Scots Language Awards. Vote now!
We askit Rosie Bircham o Rosie Bircham thae speirins.
Tell us aboot yersel or yer ootfit.
I'm a high school English teacher, teaching at Mearns Academy in Aberdeenshire.
Whit wis it got ye involvit wi the Scots leid?
I was born in central Scotland and both my parents are English, so I only came across a few Scots words and phrases growing up. It wasn't till I moved to Aberdeenshire to teach that I became really interested in Scots, particularly Doric. I found that a lot of pupils in southern Aberdeenshire barely spoke any Scots, even though their grandparents did, and wanted to change this – but had to learn a lot myself before being able to teach. I think it helped a lot when pupils – especially those already speaking English as a foreign language – were saying they couldn't speak Scots that I could say I didn't grow up with it either!
Scots has been pushed out of the dialogue of families in the Mearns. Pupils say their parents had been told off for speaking it, and had taken on the idea that it wasn't 'proper'. I really wanted to help reverse this as much as I could, and show the kids that Scots is a language in its own right, and one they should be proud of learning and speaking.
Ony particlar career heighlichts
While in my probation year, I helped out to make a Scots hansel of resources such as Scots poetry and short stories and went around a few primary schools and high schools in Aberdeenshire doing one-off lessons. These were schools in proper Doric speaking areas, so it was amazing to work with kids who spoke Scots totally naturally.
During lockdown, I found Scots literature was a great thing to teach remotely. I had pupils writing Scots tweets about what it was like to be stuck indoors, making comic book versions of Scots short stories, and even filmed a dramatic Scots reading of 'Thrawn Janet' for them to watch at home! They were so engaged and interested, and being at home, could work with their parents and share Scots words and phrases they grew up with.
Wha's yer plans fir the days aheid?
I'll continue to teach Scots as part of the BGE, in terms of both writing and reading, and want to help revive the Scots language in my community.
I'd also love to see Scots appear more in the Set Texts chosen for senior exams!
Read more about Rosie Bircham
Facebook: http://www.facebook.com/
Twitter: http://www.twitter.com/english_mearns
Instagram: http://www.instagram.com/
The Scots Language Awards are in the Gardyne Theatre, Dundee on 25th September at 7pm. Tickets are available to buy here: https://www.gardynetheatre.org.uk/show/the-scots-language-awards/ Performing on Saturday 25th September include Ellie Beaton, Anna Stewart, Gemma Johnson and more to be announced.
If you would like to support Hands Up for Trad in their work with Scottish trad music and musicians please consider supporting our Patreon campaign. We have 3 tiers starting at $1 a month and everything helps support us in our work. Read more at www.patreon.com/handsupfortrad