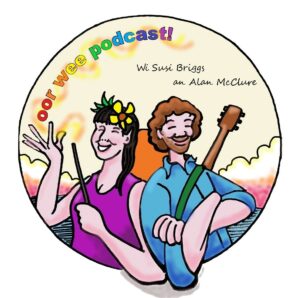 Weel duin tae Oor Wee Podcast wha hae bin nominatit in Scots Project o the Year sponsored by Scots Hoose in the Scots Language Awards. Vote now!
We askit Alan McClure o Oor Wee Podcast thae speirins. Vote now!
Tell us aboot yersel or yer ootfit.
Oor Wee Podcast wis created wi the young listener in mind. We feel Scots voices dinnae get a fair representation in mainstream wean's programming. This inspired us tae create Oor Wee Podcast tae celebrate Scots language through the airt o storytelling an sangs. Alan an Susi are passionate aboot including aw the voices an melodies that exist in Scotland. Everything ye hear is original and created by us.
Whit wis it got ye involvit wi the Scots leid?
A few hings – oor shared love o Scots stories an folk tales; a dismay at the lack o good new audio and performance for young Scots speakers; a taste for expressive, vigorous language. We baith loved usin Scots vocabulary in oor published books for weans and we are loving the chance tae share it globally!
Ony particlar career heighlichts
We wir fair chuffed tae get tae collaborate wi Laura Green at the Scots Language Centre, an wi Bruce Eunson o Education Scotland. They seen the potential for usin the podcasts in schools an helped create resources tae gang wi them. These are bein trialled in schools across the country!
Getting funded fae D G Unlimited's 'Together Again' fund tae develop oor stage show, which we performed for live audiences aroun the region in the summer o 2021.
Wha's yer plans fir the days aheid?
We're workin on new episodes, lookin for weys tae publish some of oor stories in book form, developin the live show further (for when the warld gets back tae normal!) and working wi schools tae encourage a love o Scots language.
Read more about Oor Wee Podcast
http://theweefolk.co.uk
Facebook: https://www.facebook.com/groups/oorweepodcast
Twitter: http://www.twitter.com/
Instagram: http://www.instagram.com/oorweepodcast
The Scots Language Awards are in the Gardyne Theatre, Dundee on 25th September at 7pm. Tickets are available to buy here: https://www.gardynetheatre.org.uk/show/the-scots-language-awards/ Performing on Saturday 25th September include Ellie Beaton, Anna Stewart, Gemma Johnson and more to be announced.
If you would like to support Hands Up for Trad in their work with Scottish trad music and musicians please consider supporting our Patreon campaign. We have 3 tiers starting at $1 a month and everything helps support us in our work. Read more at www.patreon.com/handsupfortrad