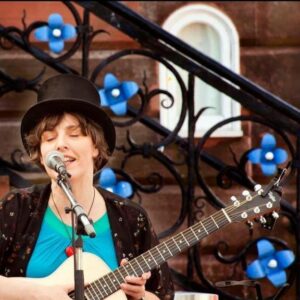 Weel duin tae Nicola Black wha hae bin nominatit in Scots Performer o the Year sponsored by Tracs in the Scots Language Awards. Vote now!
We askit Nicola Black o Nicola Black thae speirins. Vote now!
Tell us aboot yersel or yer ootfit.
Ah'm a musician, singer, sang writer, choir leader and arranger. Ah wirk a lot wi my husband, Blackie and ither local musicians.
Ah've taucht Scots sang in schuiles up tae recently, as weel as teaching them tae weans at a local Japanese simmer schuile fir bairns frae 8 tae 18 fir the last 15 year, and hae fair missed it the last twae year.
Scots has aye been an important thing tae me, an has led me to makkin an album o Hugh MacDiarmid's early scots poetry, Moonstruck. That led tae an American tour.
Ah've set local poets' work tae music as weel as ma ain, settin work by Betty Tindall and Stuart A Paterson.
Ah'm fair keen on bringin Scots into a the work Ah dae, an supporting folk that dinny hae Scots tae tak pairt. Ah dae workshops in Gallowa Scots songs, an hae teamed up wi Margaret Bennet in a Scots and Gaelic workshop day.
Whit wis it got ye involvit wi the Scots leid?
The love o the leid, an haein the luck tae meet an be influenced by some braw writers an spikkers locally. Ah moved tae Gallowa as a wean, wi a Shetland accent, an ended up wi a lot o Gallowa but at hame it was "proper English", but the soons o th Scots aroon me fascinated me. In my twenties poetry readings in modern an auler Scots made me think oan aboot Scots an inspired me tae gaun further an explore mair wi the Scots leid.
Ony particlar career heighlichts
Workin oan, screivin and recording, then the launch o Moonstruck, and the Scottish and American tour that came aifter.
Wha's yer plans fir the days aheid?
Ah'm at the late stages of an album o Stuart A Paterson's A Squatter o Bairnrhymes, a in Scots, that is planned tae be oot in October released bi Scotsoun.
The CatStrand Singers are a choir whae meet in New Galloway an Ah hae recently wrote an arranged 17 sangs, some in Scots fir thaim an a, an there will be an album an a buik frae that project early next year. Again wirds and poems o local Scots writers hae been yaised, as weel as some in English.
Read more about Nicola Black
http://https//nicolablack.bandcamp.com/releases
Facebook: http://www.facebook.com/nicolablackmusic
Twitter: http://www.twitter.com/
Instagram: http://www.instagram.com/nicolablackmusic
The Scots Language Awards are in the Gardyne Theatre, Dundee on 25th September at 7pm. Tickets are available to buy here: https://www.gardynetheatre.org.uk/show/the-scots-language-awards/ Performing on Saturday 25th September include Ellie Beaton, Anna Stewart, Gemma Johnson and more to be announced.
If you would like to support Hands Up for Trad in their work with Scottish trad music and musicians please consider supporting our Patreon campaign. We have 3 tiers starting at $1 a month and everything helps support us in our work. Read more at www.patreon.com/handsupfortrad