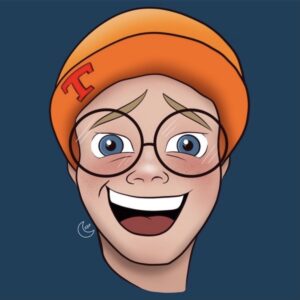 Weel duin tae Littlest Chicken wha hae bin nominatit in Scots Media Person o the Year sponsored by Dictionaries of the Scots Language in the Scots Language Awards. Vote now!
We askit Jarad Rowan o Littlest Chicken thae speirins. Vote now!
Tell us aboot yersel or yer ootfit.
I'm a fresh faced Musical Comedian hailing fae the South-West Coastal wee town o' Stranraer. This is all very new to me, I've actually just passed my year's anniversary of being media present. It's now a long term game plan and a very big part of who I wanty be.
Whit wis it got ye involvit wi the Scots leid?
I used to argue with my teachers towards the end of primary school and in secondary school when they told me to fix the way I spoke. Eh…naw, this is who we are.
Ony particlar career heighlichts
I once got to write a wee tune for Nicola Sturgeon and perform that for her (yer entitled to yer own politics, this was just pretty cool).
Wha's yer plans fir the days aheid?
How long ye got? Striving to remain content and productive, I think that's the best waiy'
Read more about Littlest Chicken
Facebook: http://www.facebook.com/littlestchicken
Twitter: http://www.twitter.com/monehchickens
Instagram: http://www.instagram.com/littlestchicken_
The Scots Language Awards are in the Gardyne Theatre, Dundee on 25th September at 7pm. Tickets are available to buy here: https://www.gardynetheatre.org.uk/show/the-scots-language-awards/ Performing on Saturday 25th September include Ellie Beaton, Anna Stewart, Gemma Johnson and more to be announced.
If you would like to support Hands Up for Trad in their work with Scottish trad music and musicians please consider supporting our Patreon campaign. We have 3 tiers starting at $1 a month and everything helps support us in our work. Read more at www.patreon.com/handsupfortrad