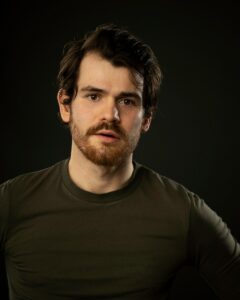 Weel duin tae Lewie Watson wha hae bin nominatit in Scots Performer o the Year sponsored by Tracs in the Scots Language Awards. Vote now!
We askit Lewie Watson o Lewie Watson thae speirins. Vote now!
Tell us aboot yersel or yer ootfit.
Ah'm a wee cov fae Elgin that tries to be other fowk, I am an occasional writer and director as well as a spoken word ertist. Ah like to channel ma native Doric in my work as much as possible, though it can be wee bitty herd in the big and scary London.
Whit wis it got ye involvit wi the Scots leid?
When I wis 19 I wis lucky enuf tae be taken on ah trip to the Traverse theatre to see Elgin local actor, Garry Collins in local Elgin writer, Morna Pearson's; 'The Artist Man and The Mother Woman'. It wis the first time I had seen fowk on stage spikkin the way I spoke. Afore en I thought you had tae hiv a central belt accent to be an actor. We then went back tae college and performed some of her ither work for oor performance exams. This kickstairted ma love affair wi writing in dialect and I have been practicin this for the past 8 or so years. During lockdoon I finally gained the confidence to stairt sharin some o it online and uploaded ma poem, "Tae The Sesh'.
Ony particlar career heighlichts
In ma third year at drama school I wis lucky enough tae play the male lead – John in Ena Lamont Smith's 'Men Should Weep' – which is written in Scots. It was amazing to perform in a semi native dialect in my first graduate show in London. As well as this I have been given the opportunity tae perform on Shakespeare's Globe in ma native accent and tour around England as Macbeth. Most recently I wrote and performed in 'the blandscape.' which helped raise funds for the charity Tiny Changes.
Wha's yer plans fir the days aheid?
Currently A'hm writing a play for Boxless Theatre Company that consists of Spoken Word and a smettering of Doric. I am also workin on a play with Garry Collins called 'Doing The Rounds' which follows Cabbage, Elgin's premiere paperboy. I hope to be able to perform these in the coming years and continue to produce more Scots poetry.
Read more about Lewie Watson
https://www.spotlight.com/3570-8943-0948
Facebook: http://www.facebook.com/
Twitter: https://twitter.com/LewieEh
Instagram: https://www.instagram.com/lewieeh
The Scots Language Awards are in the Gardyne Theatre, Dundee on 25th September at 7pm. Tickets are available to buy here: https://www.gardynetheatre.org.uk/show/the-scots-language-awards/ Performing on Saturday 25th September include Ellie Beaton, Anna Stewart, Gemma Johnson and more to be announced.
If you would like to support Hands Up for Trad in their work with Scottish trad music and musicians please consider supporting our Patreon campaign. We have 3 tiers starting at $1 a month and everything helps support us in our work. Read more at www.patreon.com/handsupfortrad