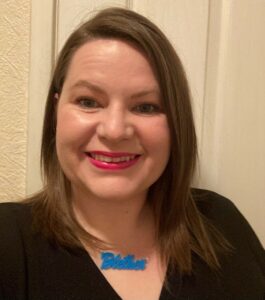 Weel duin tae Kerry Fraser wha hae bin nominatit in Scots Teacher o the Year sponsored by Scottish Qualifications Authority in the Scots Language Awards. Vote now!
We askit Kerry Fraser o Kerry Fraser thae speirins.
Tell us aboot yersel or yer ootfit.
I'm a English teacher at Perth High School, in Perth. I'm Originally fae Aiberdeen bit bin teaching at Perth High School fir ten years noo. It's the best joab in the wurld.
Whit wis it got ye involvit wi the Scots leid?
There is a lot o freedom in the English curriculum to teach yir passions. I've ayewis used Scots texts by braw writers lik Anne Donovan, Matthew Fitt, Ena Lamont Stewart, Liz Lochhead, and Jackie Kay. Bairns ayewis enjoy fan we luik at funny yins in particular.
I've ayewis bin interestit in my ain culture, and love that I kin tak it into m classroom. I love that there is mare, and mare writing in Scots. Bairns are loving writers like Ross Sayer, Graeme Armstrong and Ely Percy fir spikin their language. Note to writers: Scots with less swearing wid be appreciated fir the classroom though.
Ony particlar career heighlichts
I made some great Scots freens at an event in Glasgow Uni fae ither schuils, and the Scots Language Centre. It his spurred on my Scots revolution in my ain classroom as there are loads o resources tae use.
It was through this that I was invited to tak a group of bairns to AK Bell library for the launch fir the Scots Map of Scotland. Oor bairns (some EAL) read Scots stories to primary bairns, and even were interviewed for STV. I even got my picture taken wi John Swinney fa was the Education Secretary at the time. It wis great tae hae an event ootside the central belt, and fir us tae be able to jyne in.
Wha's yer plans fir the days aheid?
Wi oor BGE curriculum I've hid a chunce to mak chynges to fit we teach across S1-S3. I'm fair tricket tae hae Scots fir aw oor S1-S3 learners with as mony o oor S3 as possible completing units fir the Scots Language Award. We are hoping in the Summer term tae hae speakers, trips, and a richt guid time with Scots Language. You can see fit we get up tae @EnglishPhs
Read more about Kerry Fraser
Facebook: http://www.facebook.com/
Twitter: http://www.twitter.com/mrsfraserphs
Instagram: http://www.instagram.com/
The Scots Language Awards are in the Gardyne Theatre, Dundee on 25th September at 7pm. Tickets are available to buy here: https://www.gardynetheatre.org.uk/show/the-scots-language-awards/ Performing on Saturday 25th September include Ellie Beaton, Anna Stewart, Gemma Johnson and more to be announced.
If you would like to support Hands Up for Trad in their work with Scottish trad music and musicians please consider supporting our Patreon campaign. We have 3 tiers starting at $1 a month and everything helps support us in our work. Read more at www.patreon.com/handsupfortrad