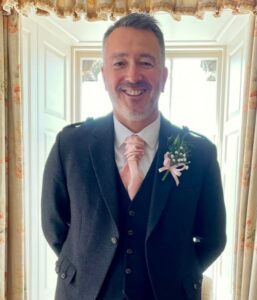 Weel duin tae Jeremy wha hae bin nominatit in Scots Teacher o the Year sponsored by Scottish Qualifications Authority in the Scots Language Awards. Vote now!
We askit Jeremy Murray o Jeremy thae speirins.
Tell us aboot yersel or yer ootfit.
A'm currently a Prinicpal Teacher at Touch Primary Schuil, Dunfermline in Fife. Ah hae previously worked at Tillicoultry Primary Schuil 'n' Kelty Primary Schuil. A' 3 schools hae a pure dead brilliant Scots heritage 'n' ah hae passionately promoted Scots wi`in th' various roles 'n' responsibilities throo'oot mah teaching joab. A'm merrit tae Claire, wha wirks at th' Royal Blind Schuil in Auld Reekie, 'n' hae 3 amazing daughters. Ella, mah eldest, begins her teaching career shortly, whin she starts oan her education degree at Dundee University. Mah twin girls Bethan 'n' Kirsten hae juist stairted 3rd year at Queen Anne Heich schuil in Dunfermline, bit ah'ament sure if they'll jyne th' teaching joab path! Away fae teaching 'n' family, mah passion is sport 'n' a'm a seezin ticket holder fur th' Pars/Dunfermline Athletic, whilst suffering 'n' enjoying th' emotions o' bein' a muckle Scootlund fitba 'n' rugby oor country gang fan. Ah huv a go 'n' speil golf a maiter o maybee aye 'n' mah current handicap is 5 – wi' an ambitious target o' getting tae scratch!
Whit wis it got ye involvit wi the Scots leid?
Traditionally in schools we aye keek tae celebrate th' barry wirk o' Rabbie Burns, mainly aroond January however ah wis aye keen tae embed elements o' scots intae lessons throo'oot th' schuil year. Inspired by th' translation o' th' Twits intae scots by Matthew Fitt, th' Eejits, ah stairted tae tak' a tiext chosen fur by mah pupils 'n' wirk oan translating it intae scots. This wid be a highlight o' th' year 'n' th' pupils teuk stoatin pride in thair wirk, 'n' loved sharing it wi' ither classes in th' schuil. Th' best example wis translating th' tiger wha cam fur cuppa intae scots. Ah aye hae mah copy o' th' finished book 'n' share it wi' ilka class ah wirk wi'. Th' opportunity tae invite Matthew Fitt tae mah class wis yin ah wis ne'er aff tae caw doon 'n' we hae made a pure tough workin' kinship ever sin. His expertise 'n' enthusiasm is infectious 'n' haes inspired mony o' mah pupils tae produce pure dead brilliant scots wirk. Highlights hae included halloween spells, twelve days o yule tide 'n' reading aboot ill broonie. Tae see mah pupils huvin thair wirk displayed oan matthew's web hingy haes provided stoatin inspiration fur ithers tae aim fur fur similar recognition. Wance Mathhew haes visited, it's mah buzz tae then share wi' th' rest o' th' schuil, wha kin then adapt th' resources 'n' ideas tae suit thair context.
Ony particlar career heighlichts
Ah hae bin fortunate tae wirk at some stoatin schools 'n' wirk beside some amazing teachers, a' providing stoatin experiences that hae helped me achieve some success in mah joab sae far. Whin th' Ryder Cup wis held at Gleneagles in 2014, ah wis pairt o' a oor country workin' group, tae pat th'gither an education resource that wis accessible fur a' pupils o'er Scotland. At titch ah stairted up an after-school cricket gang 'n' coached th' gang a' th' wey tae th' scots cup finals, finishing an amazing 9th oot 20 oan th' day. Lest year at Kelty, ah successfully led a project that helped th' schuil celebrate tis 125th birthday – anaw an magic cereal kist domino rally. However, th' maist satisfaction ye kin git as a teacher is seeing 'n' hearing howfur pupils ye hae taught hae gaen oan 'n' achieved success efter thair primary education. It's stoatin tae hear o' ex pupils wha hae gaen oan tae achieve success in th' wast end theatre in London, local 'n' oor country sporting recognition 'n' academic success at university.
Wha's yer plans fir the days aheid?
Thare is aye sae muckle disruption 'n' uncertainty wi`in education bit oor pupils 'n' families need tae ken that schools ur up 'n' running 'n' a'maist back tae whaur we waant thaim tae be. Mah jab currently involves schuil leadership 'n' class teaching bit i'm fully commitit` tae achieving th' maist positive outcomes fur a'. It kin be dead hard tae mak' the script tae far in advance, especially while a pandemic bit we need tae hae hings tae aim fur 'n' ambitions in oor wirk 'n' personal lee. I'm keekin tae th' future tae supporting mah Primary 7 thro' thair final year o' Primary Schuil 'n' thair transition tae Secondary, anaw thair residential trip tae Ardroy. I'm an' a' keen tae see whilk tiext thay wale tae changin thi words intae scots!
Read more about Jeremy
Facebook: http://www.facebook.com/
Twitter: http://www.twitter.com/
Instagram: http://www.instagram.com/
The Scots Language Awards are in the Gardyne Theatre, Dundee on 25th September at 7pm. Tickets are available to buy here: https://www.gardynetheatre.org.uk/show/the-scots-language-awards/ Performing on Saturday 25th September include Ellie Beaton, Anna Stewart, Gemma Johnson and more to be announced.
If you would like to support Hands Up for Trad in their work with Scottish trad music and musicians please consider supporting our Patreon campaign. We have 3 tiers starting at $1 a month and everything helps support us in our work. Read more at www.patreon.com/handsupfortrad