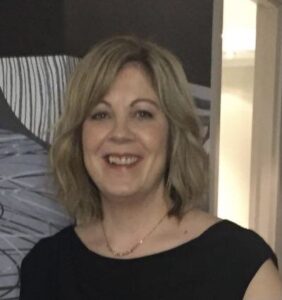 Weel duin tae Jane Hall, Stonehouse Primary, South Lanarkshire Council wha hae bin nominatit in Scots Teacher o the Year sponsored by Scottish Qualifications Authority in the Scots Language Awards. Vote now!
We askit Jane Hall o Jane Hall, Stonehouse Primary, South Lanarkshire Council thae speirins.
Tell us aboot yersel or yer ootfit.
I am a Depute Heid Teacher in the best Schuil in the hale world! At Stonehouse Primary School we love aw things Scots. We huv a focus on Scots Language throughout the year but we use it aw the time. Our Schuil has a nursery, an ASN base and mainstream classes and I get to work with all the weans, to share the Scots Language. As part o' the 1+2 Languages Initiative, I worked wi' colleagues from South Lanarkshire Council, to produce a framework for Scots Language frae Nursery to P7. I tend tae use Scots in my every day language but not entirely. I think it's often mair expressive than English.
Whit wis it got ye involvit wi the Scots leid?
My family huv always celebrated Scots Language, at Ne'erday and Burns' celebrations in particular. Ah grew up singing songs in Scots and using words and phrases in oor everyday chats and blethers. When I wis first a teacher, I felt it wis only ever used for Burns' competitions and felt scunnered when weans would be corrected for using Scots. I love that there has been mair recognition of and importance given tae Scots ower the past 10 years or so. Stonehouse is a community that has lang syne celebrated Scots Language so there are hunners o' ways for us to work thegither.
Ony particlar career heighlichts
When we moved intae oor new Schuil nearly 10 years ago, we had quotes from Scots poets and writers put on aw the classroom doors. Each year the classes look at these quotes and explore whit they mean.
We were wan o' the first schuils to have our own Scots Language Ambassador, Professor Kirsteen McCue, and she helped us tae write oor ain book, all in Scots – it was a best seller in Stonehouse!
I loved being pairt of an authority working party tae develop a framework for aw the schuils tae use in learning and teaching Scots.
Every year we have oor own Scots Language competition in poetry and singing. We managed to keep it gawn, virtually, even during lockdoon number 2 in January 2021. Usually we follow this up with a hale community event with aw the ither groups in Stonehouse coming thegither to enjoy performances and dancing.
Wha's yer plans fir the days aheid?
We are chuffed tae be back in schuil this year and hope tae be able to get back to community events again. Oor focus this year fur Scots Literacy will be in writing as well as listening and talking. We'd love tae publish another book. This nomination really should be fur oor hale schuil because they aw work so hard to promote Scots Language – and oor plan going forward, is for that tae continue.
Read more about Jane Hall, Stonehouse Primary, South Lanarkshire Council
http://https://blogs.glowscotland.org.uk/sl/stonehouse/
The Scots Language Awards are in the Gardyne Theatre, Dundee on 25th September at 7pm. Tickets are available to buy here: https://www.gardynetheatre.org.uk/show/the-scots-language-awards/ Performing on Saturday 25th September include Ellie Beaton, Anna Stewart, Gemma Johnson and more to be announced.
If you would like to support Hands Up for Trad in their work with Scottish trad music and musicians please consider supporting our Patreon campaign. We have 3 tiers starting at $1 a month and everything helps support us in our work. Read more at www.patreon.com/handsupfortrad