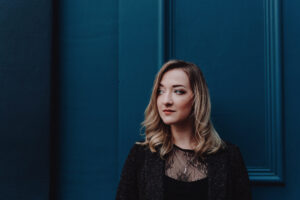 Weel duin tae Iona Fyfe wha hae bin nominatit in Scots Speaker o the Year sponsored by Scots Language Centre in the Scots Language Awards. Vote now!
We askit Iona Fyfe o Iona Fyfe thae speirins. Vote now!
Tell us aboot yersel or yer ootfit.
Am a Scots sangster fae Huntly, Aiberdeenshire. I hae grown up aneth the tradition, learnin tradition ballads fae sangsters an gan tae singaroons an folk clubs. A bide in Glesca noo an' I recently graduated wi a first class honours degree in Traditional Music fae the Royal Conservatoire o Scotland. We hae stravaiged aa ower, singin oor sangs, ballads and bothy ballads in Germany, France, Italy, Czech Republic, Austria, Switzerland, Poland an as hine oot as Australia an' Canada. A've bin a National Director o' the TMSA (Traditional Music and Song Association) fir a puckle o year an noo sit on the Scotland & NI Regional Committee o' I Musicians Union.
Whit wis it got ye involvit wi the Scots leid?
I grew up recitin Scots poetry in the Doric dialect at TMSA festivals, it wis a natural progression tae sing an perform in Scots. I wark wi Oor Vyce tae campaign fur a Scots Language Act tae preserve, protect an gie legal recognition tae the leid.
Ony particlar career heighlichts
• In 2021, I led a successful campaign tae get Spotify tae add Scots tae it's list o leids
• In 2018, I becam the youngest iver winner o the Scots Sangster o the Year at the MG ALBA Scots Trad Music Awards
• In 2020, I won Scots Performer o the Year at the Scots Language Awards
• Performin at Lorient Interceltique Festival in Brittany wis ane o my favourite gigs
• In 2021, the Oor Vyce #ScotsPledge got 35/129 sitting MSPs tae sign in support o protecting, promoting and preserving the Scots Leid.
Wha's yer plans fir the days aheid?
• This year we warkit thegither tae record a studio version o Taylor Swift's 'Love Story' – aince we hae clearance o the tranlsation fae Miss Swift, it will be lowsed.
• On 10th September, I'm releasin my sang, 'The Cauld', a full band pop sang wi electric guitars – showin that the leids leid disnae hae tae be stuck tae the trad/folk genre an we maun push the leid forrit intae new genres.
Read more about Iona Fyfe
http://www.ionafyfe.com
Facebook: http://www.facebook.com/ionafyfe
Twitter: http://www.twitter.com/ionafyfe
Instagram: http://www.instagram.com/iona.fyfe
The Scots Language Awards are in the Gardyne Theatre, Dundee on 25th September at 7pm. Tickets are available to buy here: https://www.gardynetheatre.org.uk/show/the-scots-language-awards/ Performing on Saturday 25th September include Ellie Beaton, Anna Stewart, Gemma Johnson and more to be announced.
If you would like to support Hands Up for Trad in their work with Scottish trad music and musicians please consider supporting our Patreon campaign. We have 3 tiers starting at $1 a month and everything helps support us in our work. Read more at www.patreon.com/handsupfortrad