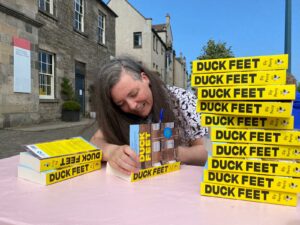 Weel duin tae Ely Percy / Duck Feet wha hae bin nominatit in Scots Book o the Year sponsored by Scottish Book Trust in the Scots Language Awards. Vote now!
We askit Ely Percy o Ely Percy / Duck Feet thae speirins. Vote now!
Tell us aboot yersel or yer ootfit.
Ely Percy is a Scottish writer who grew up in Renfrew. Thir first publication wis a letter-cum-poem in Big! magazine in 1994. Since then, thiv released a memoir Cracked: Recoverin After Traumatic Brain Injury (JKP, 2002), graduated wi distinction fae Glasgow University's MPhil in Creative Writin (2004) an contributed over fifty short stories tae literary journals (e.g. New Writing Scotland, Scotsman Orange an The Edinburgh Review). Percy's debut novel Vicky Romeo Plus Joolz wis published in March 2019 by Knight Errant Press. Thir second novel Duck Feet (Monstrous Regiment) came oot on March 2021.
Duck Feet is a comin-of-age novel that begins in the Autumn ae 2001 an ends in the Summer ae 2007. It follies the lives ae workin-class school girl, Kirsty Campbell, an her pals as they go fae first through tae sixth year at the fictional high school Renfrew Grammar, dealing wi things like bullyin, exam pressure, sexuality an teen pregnancy.
Whit wis it got ye involvit wi the Scots leid?
Ma whole life ah'd been gettin told tae 'speak properly' – ma parents an teachers at school wid say 'don't say aye, don't say naw or yi'll never get a job'. Then when ah wis about twenty, ah went tae this evenin creative writin class an the tutor suggested ah should read Jim Kelman's novel 'How Late It Was, How Late'. That wis a revelation! Suddenly here wis this thing written in what ah'd previously been told wis 'slang' an 'trash language' an it'd won the bliddy booker prize! Seein somebody write in the Glaswegian vernacular gave me permission tae huv a go at writin the way ah speak, an ah discovered ah wis quite good at it.
Ony particlar career heighlichts
Seein ma novel on a table in a book shop labelled "Best Scottish Fiction", then seein ma novel on its own table in a book shop, then bein told told that The Drama's In The Dialect (the talk ah did wi Harry Josephine Giles an Heather Parry about novels written in Scots) wis considered a 'stand out event' in a review ae the Edinburgh International Book Festival!
Wha's yer plans fir the days aheid?
Ah've got a novella out on spec, an ah'm revisitin a crime novel ah've been tryin tae write fur years, an ah'd really like tae do some spin off stories wi some ae the other characters fae Duck Feet – specifically the LGBT characters because we don't often get tae hear workin class queer voices in Scottish fiction an ah'd really like tae see that change.
Ah'm also hopin tae get fundin tae be able tae go on an in-person book shop tour ae the UK wi Duck Feet in 2022!
Read more about Ely Percy / Duck Feet
http://elypercy.com
Facebook: http://www.facebook.com/elypercy
Twitter: http://www.twitter.com/decenthumanbean
Instagram: http://www.instagram.com/ely_percy
The Scots Language Awards are in the Gardyne Theatre, Dundee on 25th September at 7pm. Tickets are available to buy here: https://www.gardynetheatre.org.uk/show/the-scots-language-awards/ Performing on Saturday 25th September include Ellie Beaton, Anna Stewart, Gemma Johnson and more to be announced.
If you would like to support Hands Up for Trad in their work with Scottish trad music and musicians please consider supporting our Patreon campaign. We have 3 tiers starting at $1 a month and everything helps support us in our work. Read more at www.patreon.com/handsupfortrad