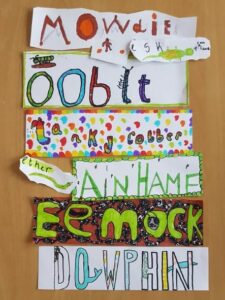 Weel duin tae Colin Mackenzie, Troqueer Primary School wha hae bin nominatit in Scots Teacher o the Year sponsored by Scottish Qualifications Authority in the Scots Language Awards. Vote now!
We askit Colin Mackenzie o Colin Mackenzie, Troqueer Primary School thae speirins.
Tell us aboot yersel or yer ootfit.
A'm a P6 teacher at Troqueer Primary School in Dumfries. Aathing we dae in teachin is a team effort an A'm prood tae represent the staff an weans at Troqueer.
Whit wis it got ye involvit wi the Scots leid?
Ma colleague an freend Mrs Johnson got me stairtit yaisin Scots wi the weans by involvin me in Scots leid sangshaws organised by the Dumfries and District Music Festival.
My ain yuise o Scots has been inspired by Scots leid Twitter. It's been braw tae see sic a furthie development o written Scots online.
Ony particlar career heighlichts
This is yin o them! A think the thing A luve maist is seein the weans bein creative wi Scots. A'm howpin we can get the follaein wirds intae the dictionary: lanky gobber (llama), ain-hame (tortoise), ben baudrons (lynx), an brockit beast (panda).
Wha's yer plans fir the days aheid?
A'm luikin forrit tae stairtin up Scots poetry clubs again noo we're back in schuil. Speakin, readin, an scrievin mair Scots is the main plan.
Read more about Colin Mackenzie, Troqueer Primary School
Facebook: http://www.facebook.com/
Twitter: http://www.twitter.com/
Instagram: http://www.instagram.com/
The Scots Language Awards are in the Gardyne Theatre, Dundee on 25th September at 7pm. Tickets are available to buy here: https://www.gardynetheatre.org.uk/show/the-scots-language-awards/ Performing on Saturday 25th September include Ellie Beaton, Anna Stewart, Gemma Johnson and more to be announced.
If you would like to support Hands Up for Trad in their work with Scottish trad music and musicians please consider supporting our Patreon campaign. We have 3 tiers starting at $1 a month and everything helps support us in our work. Read more at www.patreon.com/handsupfortrad