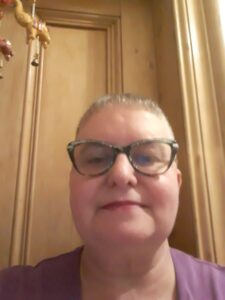 Weel duin tae Clepington Primary School wha hae bin nominatit in Scots Teacher o the Year sponsored by Scottish Qualifications Authority in the Scots Language Awards. Vote now!
We askit Irene Shearer o Clepington Primary School thae speirins.
Tell us aboot yersel or yer ootfit.
Ah am a primary schuil teacher wha is workin wi ower twa hunner bairns iviry week. Mah schuil sits in the centre o Dundee and it has a wheen o leids amang oor faimilies. Ah really feel strangly that nae metter whar wir faimilies come fae we aa hae Scots tae hud us thegither; wir aa a pairt o Scotland. Ah yaise the Scots leid as pert o ma daily lessons inc. dennir leet. Nae mair packed lunches in oor room; it's a piece box noo! Ah huv been blessed tae hear ma faimly yaisin a muckle mix o wurds fae Aiberdeenshire an Banff whin Ah wiz a bairn, Ah went tae schuil masel in Fife and fin Ah went tae work Ah came tae bide in Dundee. Ah dae ma best tae yaise Scots aa the time…it's nae ayewys easy tae brak the habit o yaisin English fin that is whit abdy hiz spikken at ye fir years.
Whit wis it got ye involvit wi the Scots leid?
Ah really do love diffrent leids and find it so interestin whin ye can mak connections atween thim.
Ah stertit yaisin Scots mair in ma daily life after being telt thit the time hid arrived fir us aa tae be spikkin in French in aa wir classes iviry day.
Ah decidit that if Ah hiv tae spik aa the ither anes Ah wiz yaisin ma ain een an a. Thir ur a load o Scots wurds that ur mair expressive than whit's available in English aleen.
Ony particlar career heighlichts
Hearin bairns in the schuil haein the confidence tae spik in Scots an share thir ideas wi each ither.
Recordin the Dundee Gruffalo durin Lockdoon fir aa wir Primary 3 bairns as a listenin activity then watchin aa the videos they sent back o them haein a go at it.
Wha's yer plans fir the days aheid?
Ah wid like tae get the wurd oot tae aa wir faimilies that Scots is a fine leid fir yaisin iviry day. Tae help get rid o the idea that it isna 'proper' tae spik it.
Ah am fillin up the shelfs in the library wi Scots books tae help the bairns see that it's a guid leid tae read in.
An maisit of aa, tae big up the skills/belief o ma colleagues that they kin yaise it tae.
Read more about Clepington Primary School
The Scots Language Awards are in the Gardyne Theatre, Dundee on 25th September at 7pm. Tickets are available to buy here: https://www.gardynetheatre.org.uk/show/the-scots-language-awards/ Performing on Saturday 25th September include Ellie Beaton, Anna Stewart, Gemma Johnson and more to be announced.
If you would like to support Hands Up for Trad in their work with Scottish trad music and musicians please consider supporting our Patreon campaign. We have 3 tiers starting at $1 a month and everything helps support us in our work. Read more at www.patreon.com/handsupfortrad