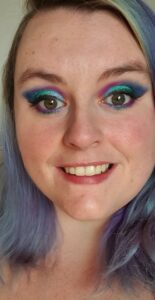 Weel duin tae Becky Halliburton wha hae bin nominatit in Scots Teacher o the Year sponsored by Scottish Qualifications Authority in the Scots Language Awards. Vote now!
We askit Becky Halliburton thae speirins. Vote now!
Tell us aboot yersel or yer ootfit.
Ehm a Sicondary English Teacher fae Dundee, noo biding in Perth. Eh love teaching literature ti aulder bairns in Scots. Eh love reading and ehm a member and foonder o several buik clubs. Eh track meh reading progress oan meh buik Instagram.
Whit wis it got ye involvit wi the Scots leid?
When Eh wis at Sicondary skale, abdy spoke in Scots and when Eh went tae regional events wi the cooncil Eh was aye made fun o by the other skales fir the wiy Eh spoke. Eh mind Matthew Fitt coming tae visit meh school when Eh wis aroon 15 and feeling dead empowered aboot the wiy Eh spoke. Efter that, Eh kent I wanted tae empower ither young fowk wha may be in similar situations.
Ony particlar career heighlichts
At meh current skale Eh have established a hale-skale intercurricular Scots leid week wi ahing fae oor daily prayer in scots tae a hale-skale plenary resource so teachies cin be confident using Scots in ah lessons. Depertments in the skale plan their lessons tae use Scots specialist wirds e.g music terminology and recipe ingredients. Pupils and staff aw wear and display their favourite Scots words aroon their craig throughoot the week. We've extended the leid week a wee bit intae the community wi Scots bairn's buiks made by s2 pupils being displayed in the library and a wird wa' being made by parents. It's braw fun and abdy takes pert.
Wha's yer plans fir the days aheid?
Eh would love tae open the Scots leid week tae the community mair, and this has been a goal since afore the pandemic. Ehm looking forward tae reading and teaching mair fantastic buiks in Scots.
Read more about Becky Halliburton
Twitter: http://www.twitter.com/halliburtonmrs
Instagram: http://www.instagram.com/bookasaurusbex
The Scots Language Awards are in the Gardyne Theatre, Dundee on 25th September at 7pm. Tickets are available to buy here: https://www.gardynetheatre.org.uk/show/the-scots-language-awards/ Performing on Saturday 25th September include Ellie Beaton, Anna Stewart, Gemma Johnson and more to be announced.
If you would like to support Hands Up for Trad in their work with Scottish trad music and musicians please consider supporting our Patreon campaign. We have 3 tiers starting at $1 a month and everything helps support us in our work. Read more at www.patreon.com/handsupfortrad