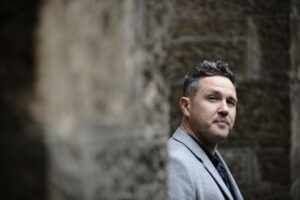 Weel duin tae Alan Bissett wha hae bin nominatit in Scots Writer o the Year sponsored by National Library of Scotland in the Scots Language Awards. Vote now!
We askit Alan Bissett o Alan Bissett thae speirins. Vote now!
Tell us aboot yersel or yer ootfit.
I am a novelist, playwright and performer who was born and raised in Falkirk and now lives in Renfrewshire. Three of my four published novels, Boyracers (2001), The Incredible Adam Spark (2005) and Pack Men (2011), plus my recent novella Lazy Susan (2020) have been written partly or entirely in Scots, as have many of my plays, including The Moira Monologues (2009), More Moira Monologues (2017) and Turbo Folk (2010). Some of these even won or were shortlisted for awards, back in the day!
I only use Scots in a creative context, and not in my non-fiction writing (which is why I am writing in English now), and tend towards transcription of the verbal language that I grew up speaking, the living language, if you will. I don't do so well in 'glossary Scots'. In other words, if a word or phrase is not one I have ever spoken or heard in day-to-day communication of my own, then I don't use it in my creative work, as I don't feel a particular ownership of it or right to it.
Whit wis it got ye involvit wi the Scots leid?
Scots was spoken freely in my household as a child, as it was the language my parents grew up speaking, but I did not encounter it as a 'literary' language until discovering the Broons and Oor Wullie annuals! I did, however, win an award in Primary 3 for my recital of the JK Annand poem 'The Crocodile' as part of the school's Burns celebrations, which probably began my creative relationship with the Scots tongue. Thereafter I wrote humorous poems in Scots, which would have been the first time I deployed it myself as a written language.
In my late teens, the arrival of Irvine Welsh's Trainspotting galvanised me, as it did many young writers, and thereafter I crafted my debut novel, Boyracers, about four young lads tearing around the backstreets of Falkirk, who obviously 'talk the way they talk'. Its publication in 2001 and reception gave me the confidence that the tongue I grew up with was legitimate as a creative expression, one which felt natural and true to me, and I have continued to experiment with the language ever since.
Ony particlar career heighlichts
The Moira Monologues has probably been my most successful use of the Scots tongue. I wrote the script but also performed onstage as Moira herself, a battle-hardened cleaner from Falkirk, and the language of the play takes no prisoners, being fully working-class Central Belt Scots from the word go and not letting up. The play found a large audience despite – or perhaps because of – its confrontational linguistics, as the audience found themselves sympathising with a character who they had perhaps written off initially as 'from the gutter'.
My most recent prose work, the novella Lazy Susan, uses experiments with a Scots narrator alongside a Choose-Your-Own-Adventure format, to create (I hope) something that hasn't been seen before in Scots language writing: a genre which is part-game book, part-literary fiction.
Wha's yer plans fir the days aheid?
Well, my laptop has just died, so am currently on hold to the Apple Mac team to try and rescue the new novel I have been working on, The Coven and The Drowners, about contemporary witchcraft, diving into the pagan traditions in Scotland which still remain to this day. I mean, I *think* I have it backed up, but until I *know* I do then it's a nervous wait….
Read more about Alan Bissett
http://alanbissett.com/
Facebook: http://www.facebook.com/Bissettism
Twitter:
Instagram:
The Scots Language Awards are in the Gardyne Theatre, Dundee on 25th September at 7pm. Tickets are available to buy here: https://www.gardynetheatre.org.uk/show/the-scots-language-awards/ Performing on Saturday 25th September include Ellie Beaton, Anna Stewart, Gemma Johnson and more to be announced.
If you would like to support Hands Up for Trad in their work with Scottish trad music and musicians please consider supporting our Patreon campaign. We have 3 tiers starting at $1 a month and everything helps support us in our work. Read more at www.patreon.com/handsupfortrad