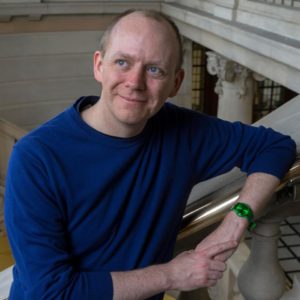 Congratulations to Thomas Clark, Diary o a Wimpy Wean who has been nominated in Scots Bairns' Book o the Year and Media Person o the Year sponsored by Scottish Government in the Scots Language Awards 2019. Vote now!
We asked Thomas Clark the following questions.
Tell us about yourself
Ah'm a makar, scriever an playwricht that wirks mainly in Scots. Ah scrieve onythin that fowk'll read, onywhaur that fowk'll hiv me – ah dae a regular column for The National, an hae written for Bella Caledonia, Mak Forrit, Nil By Mouth an the Scottish Buik Trust, amang ithers. Ma maist recent buiks are ma poetry collection Intae the Snaw, ma novel Your Pal Andy, which ah scrieved when ah became Scottish fitba's first ever poet-in-residence, an Diary o a Wimpy Wean, the Scots owersettin o Jeff Kinney's Diary of a Wimpy Kid. It's an absolute stoater o a buik, an ah'm pure made-up tae see ma translation o it nominatit for a Scots Language Award!
Why are you involved in Scots language?
Scots is no jist ma native tongue, but ma native vyce – it's no jist hou ah scrieve, it's hou ah think, hou ah líve. An like mony Scots spikkers, ah awmaist had aw thon reived fae me bi the spectrum o stigma an neglect that, for ower lang, has been the public portion for oor bonnie, broukit leid. Nae bairn should growe up ashamed o hou they talk, an aw it taks for thon tae chynge is for awbody that cares aboot Scots tae lend a shooder an wirk thegither. That's aw ah'm ever ettlin tae dae.
Any particular career highlights?
Whether it's in Embra or Glesga, at a festival or a library or a schuil, there's naethin ah've enjoyed mair this past wee while-o than gettin tae stravaig aroond Scotland spraffin tae bairns aboot Diary o a Wimpy Wean an the Scots language. Oor weans are the futur o oor leid, an whenever ye micht think the finally baw's on the slates for Scots an its spikkers, there's naethin sets ye richt mair siccar than a wee blether wi yin o the generation o engaged, Scots-spikkin bairns that's comin up ahint us!
What are your plans for the future?
Ah've anither bairns' buik in Scots comin oot in the next wee while, sae watch oot for that yin! Forby, ah'm scrievin a trilogy o plays aboot fitba for Scots Hoose, an ah've a Scots play aboot Chernobyl gettin pit on in October. But these are richt excitin times for oor language, an there's aw sorts ah'm wantin tae get up tae – a poetry collection, a buik o trickster tales set in medieval Scotland, a novel aboot post-apocalypse Glesga; an, o coorse, there's still anither thirteen Wimpy Kids tae gang…
Read more about Thomas Clark, Diary o a Wimpy Wean
http://www.thomasjclark.co.uk
Facebook: https://www.facebook.com/thomas.clark.3133719
Twitter: http://www.twitter.com/ClashCityClarky
Instagram:
If you wish to attend the Scots language awards, tickets are available to buy via: https://www.ticketsglasgow.com/Pages/EventDetail.aspx?EventId=8fd8b867-811e-4bfc-a2c0-aab900efc42b For box office call 0141 353 8000 or email box@horsecross.co.uk. Performing on Friday 27th September include Iona Fyfe Trio, Susi Briggs, Steve Byrne and more to be announced.
If you would like to support Hands Up for Trad in their work with Scottish trad music and musicians please consider supporting our Patreon campaign. We have 3 tiers starting at $1 a month and everything helps support us in our work. Read more at www.patreon.com/handsupfortrad