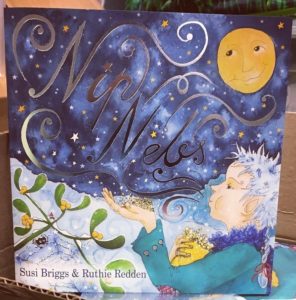 Congratulations to Susi Briggs and Ruthie Redden who have been nominated in Scots Bairns' Book o the Year sponsored by Scottish Government in the Scots Language Awards 2019. Vote now!
We asked Susi Briggs the following questions.
Tell us about yourself
Nip Nebs is an original picture book in Scots written by Susi Briggs, illustrated by Ruthie Redden and published by Curly Tale Books Ltd.
Ootby in the shaddies o the pale moonlicht….
A glittering tale in Scots about Jack Frost and what he gets up to when the moon is shining bright. Explore the frosty landscape and find all the creatures and faerie folk hiding in these enchanting illustrations.
Why are you involved in Scots language?
I used to write stories in English and send them to publishers. One of my stories called The Wee Sleepy Sheepy was rejected time and time again. The final rejection letter said that they would publish the story if I omitted the "Scottish flavour" and call it The Sleepy Sheepy. That wee "wee" word meant awfy muckle. I rejected that idea and translated all the stories I had written into Scots in the hope that one day they would be published. I recognised then that aside from the wonderful work of Susan Rennie, James Robertson and Matthew Fitt there was very little access to children's books in Scots language. Itchy Coo books on the shelf gave me great hope at that time.
I met Ruthie Redden who was inspired also and together we created Nip Nebs in the hope that someone would believe in publishing the book. It took several years of being told by many experts in the field that a publisher would not touch an original story in Scots as the market for it was too niche. We never gave up hope that something would come along.
In 2017 Ruthie exhibited the illustrations at a local gallery. Our publishers Jayne Baldwin and Shalla Gray of Curly Tale Books fell in love with the illustrations and the story. They courageously took the risk for Nip Nebs to become a reality. Ever since then we have worked really hard to inspire, raise accessibility and awareness of the Scots language ever since.
Any particular career highlights?
Working with Ruthie and the rest of the team is a constant highlight.
To pin a few down:
• Meeting Matthew Fitt. I walked into his event "The Eejits" at Wigtown Book Festival dressed as Mr Eejit purely so he would be curious enough to talk to me and for me to introduce myself. I wanted to let him know Nip Nebs was now going to get published. (I had found that out about days before I went to the event) Matthew and the other books and authors of Itchy Coo publishing had kept me inspired during the time I was translating my own stories into Scots.
• The moment Ruthie and I opened the first box of Nip Nebs books at the book launch. That was a joyous moment marvelling at what we had created together.
• The feedback from the children in schools. Receiving small paintings and drawings from them at author visits really make my heart happy. Every time we do a Nip Nebs Trail there is always something special happening. Lee who plays our Nip Nebs really gets into character and we have had many a daft moment together on those.
• Listening to actor Gary Lewis read Nip Nebs with the background of Alan McClure's music on the Nip Nebs and other stories audio book was really amazing. It sounds so magical. It has not been officially released yet but we do have plans to rerecord and do something with that. We need some investment of time and money to get that completed. It will happen.
• I loved reading "Nip Nebs and other Scots Tales" with Gary Lewis. The moment when Gary and I were sitting smiling at this wee lassie who kept saying "Puddock" because it sounded nice in her mooth. That moment still makes me grin.
• Meeting Nicola Sturgeon was pretty braw at the Wigtown Book Festival and her telling me that she really liked our book Nip Nebs. I think I grinned non stop for about 24 hours after that encounter.
• Our publisher's Curly Tale Books received the first Scots Publication Grant recently which they will use to publish our second book Nip Nebs and the Last Berry. That was a big highlight because they truly deserve it. They believed in us when other's did not or could not take the risk.
• Finally, being part of the first Scots Language Awards is incredible. This event brings so much validation to the community who work daily to build the accessibility and awareness of the language in their own unique ways. To be invited to take part has personally made me feel like I belong and am welcome to this community.
What are your plans for the future?
I hope to continue to create Scots language picture books for weans with Ruthie Redden and Curly Tale Books for many years to come.
The team would also like to see Nip Nebs and the stories we create to be animated. The vision is not just for our own books to be animated but for other Scots stories for weans to be animated or made into short films. Positive representation of the Scots language in visual media for weans is sadly lacking. We as a team would like to see that change. It would be another way to encourage the awareness that we have a beautiful and valid voice in the world.
We have no idea how to affect that change or how that could happen. I just hope that it does, know that it will and trust that the magic part happens in the middle to make it so.
Read more about Susi Briggs
http://www.nipnebs.com
Twitter: http://https://twitter.com/SusiBriggs1/
Instagram: http://https://www.instagram.com/susibriggsnipnebs//
If you wish to attend the Scots language awards, tickets are available to buy via: https://www.ticketsglasgow.com/Pages/EventDetail.aspx?EventId=8fd8b867-811e-4bfc-a2c0-aab900efc42b For box office call 0141 353 8000 or email box@horsecross.co.uk. Performing on Friday 27th September include Iona Fyfe Trio, Susi Briggs, Steve Byrne and more to be announced.
If you would like to support Hands Up for Trad in their work with Scottish trad music and musicians please consider supporting our Patreon campaign. We have 3 tiers starting at $1 a month and everything helps support us in our work. Read more at www.patreon.com/handsupfortrad
This post is also available in: Scots