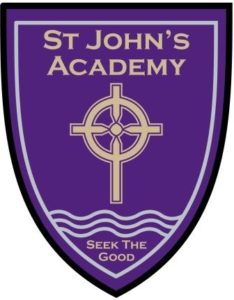 Congratulations to St John's RC Academy who have been nominated in Scots School o the Year sponsored by Itchy Coo and Black and White Publishing in the Scots Language Awards 2019. Vote now!
We asked Sean Hagney of St John's RC Academy the following questions.
Tell us about yourself
St John's Academy is situated in Muirton, Perth, and enjoys a picturesque setting overlooking the North Inch and the River Tay. As an all-through school, with children and young people from age 2-18, we are privileged to support the learning and development of our pupils from early years to S6; this has helped to develop strong relationships with families. Our catchment becomes wider as we move from nursery, to primary, to secondary, where we stretch across most of the local authority, from Crieff to Blairgowrie, and Glenfarg to Pitlochry. Perthshire is steeped in Scots, and the richness of the language helps us to learn about our local history and culture.
Why are you involved in Scots language?
We have a diverse linguistic community, 30% of our children have English as an additional language with 23 different languages spoken including Tagalog and Polish. By learning and hearing Scots we are ensuring that our curriculum addresses the importance of inclusive practice whilst promoting an understanding of our cultural heritage. We have spent years on expanding Scots Language: it is embedded in the life of St John's Academy and can be experienced in lessons and in tutor groups where the school prayer and bulletin have been written in Scots; we have Scots word of the day and events which promote whole school celebrations of Scots to name a few. Our nursery promotes Scots through books, such as the Scots translation of the Gruffalo, songs and rhymes. In our Primary classes Scots Language compliments our 1 plus 2 language initiative, encouraging pupils to discuss language and explore the connections between words. All Staff are offered Scots Language CPD opportunities to bolster confidence, share experiences and inspire creative ways of embedding Scots within all subject areas. To extend further links with local residents (many of our families speak Scots at home) pupils have written their own books in Scots, displaying these in the community library.
Any particular career highlights?
In the past we have worked with the Creative Learning Network where we celebrated the rich diversity of language within our school, we have regular visits from writers and authors whose work is included on the Scottish Text SQA reading list. In nursery and P1, our annual Burns celebration brings the children together in celebrating Scots songs and dance, and even a haggis. Recently we have worked with author Matthew Fitt collaboratively across the school. Our Primary Five pupils created Halloween words and spells, took part in story telling in Scots and recorded a video of the 'Three Craws Song' full of singing, action and great costumes! In our Secondary school pupils have worked with Scots Hoose recording poetry recitals and accompanying videos featuring local Perth land marks for the website. Even our Bishop got involved and his reading of Weelcome the Lord o Licht can also be viewed online, at Scots Hoose.
What are your plans for the future?
Wur fair chuffed wi' oor nomination as Scots Schuil o the Year. We will continue to promote the Scots Language as part of the life and ethos of the school. Our film club has decided that they want to create films this year in Scots Language and a montage video of jokes in Scots Language. Our writer visits continue and it is encouraging to see some of our senior pupils submitting SQA folio pieces written in Scots Language. We are already planning for our celebration of Scots Language as a whole school in November where we can share the successes of our young people across our school community.
Read more about St John's RC Academy
http://www.st-johnsacademy.org.uk/
Facebook: http://www.facebook.com/
Twitter: http://www.twitter.com/st_johnsacademy
Instagram: http://www.instagram.com/
If you wish to attend the Scots Language Awards, tickets are available to buy via: https://www.ticketsglasgow.com/Pages/EventDetail.aspx?EventId=8fd8b867-811e-4bfc-a2c0-aab900efc42b For box office call 0141 353 8000. Performing on Friday 27th September include Iona Fyfe Trio, Susi Briggs, Steve Byrne and more to be announced.
If you would like to support Hands Up for Trad in their work with Scottish trad music and musicians please consider supporting our Patreon campaign. We have 3 tiers starting at $1 a month and everything helps support us in our work. Read more at www.patreon.com/handsupfortrad