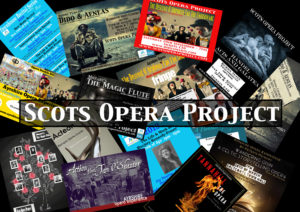 Congratulations to Scots Opera Project who have been nominated in Scots Project o the Year in the Scots Language Awards 2019. Vote now!
We asked David Douglas of Scots Opera Project the following questions.
Tell us about yourself
The Scots Opera Project is an exciting Scottish arts organisation based in the west coast of Scotland, who's objective is to present opera's and classical music in the Scots Language.
Formed in 2014 by Tenor David Douglas, their first summer school project culminated with a performance of a Scots language production of Charpentier's Acteon, since then the Scots Opera Project have continued to build a reputation for these ground-breaking productions; having created, performed and toured Scots versions of Charpentier's Actéon, La Descente D'Orphée Aux Enfers, Mozart's The Magic Flute and Purcell's Dido & Aeneas. The Scots Opera Project also hold regular concerts that highlight the use of Scots in classical music, deliver various education workshops within schools and run an annual community Scots Language opera course.
A mixture of professional singers, instrumentalists and a community ensemble makes the Scots Opera Project a unique company that aims to bring Scots Language opera's to the wider community.
Why are you involved in Scots language?
Scots Language may not be the most obvious choice for an opera performance, but we believe that it works extremely well. Operas are performed in different languages all over the world. therefore when performing an opera in Scotland, we feel that the use of Scots is extremely important to Scottish culture. This fusion creates a new art form that brings opera performances to life in an entirely different way for both performers and audiences. Opera's are regularly translated into native languages all over the world and we believe that the Scots Language deserves the same recognition and respect in terms of being heard and perfomred in the Operatic art form. We believe that this sort of work can break down negative stereotypes about the language and can highlight how beautiful and expressive it is.
Any particular career highlights?
Performance highlights include: performing at the globally respected Robert Burns Humanitarian Awards in 2015, A Spark O' Nature's Fire, The Genius of Robert Burns, Alloway Session 2015, North Ayrshire's Fusion Festival, The Two Brigs, Acteon tour, live performance's and a dedicated programme about our productions on BBC Scotland's Classics Unwrapped, performance on STV Glasgow's The Riverside Show, TamFest, Burns Aflame, Burns Alicht, performance's of a newly created schools opera at the Largs' Viking festival and premiering new Scots language version of Charpentier's The Descent of Orpheus to the Underworld, Mozart's The Magic Flute and Purcell's Dido and Aeneas. last year we were proud to created a full length film version and documentary of our Scots and Gaelic version of Purcell's Dido and Aeneas, which is now available online.
What are your plans for the future?
Future plans include adult courses, recitals, a primary school education project, a new opera based on Robert Tannahill, a new operatic version of Robert Burn's The Jolly Beggars and touring our existing body of work.
Read more about Scots Opera Project
http://www.scotsoperaproject.com
Facebook: http://https://www.facebook.com/scotsoperaproject/
Twitter: http://www.twitter.com/operascots/
Instagram: http://www.instagram.com/
If you wish to attend the Scots language awards, tickets are available to buy via: https://www.ticketsglasgow.com/Pages/EventDetail.aspx?EventId=8fd8b867-811e-4bfc-a2c0-aab900efc42b For box office call 0141 353 8000 or email box@horsecross.co.uk. Performing on Friday 27th September include Iona Fyfe Trio, Susi Briggs, Steve Byrne and more to be announced.
If you would like to support Hands Up for Trad in their work with Scottish trad music and musicians please consider supporting our Patreon campaign. We have 3 tiers starting at $1 a month and everything helps support us in our work. Read more at www.patreon.com/handsupfortrad
This post is also available in: English