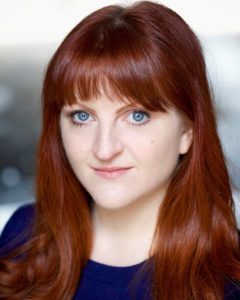 Congratulations to Morna Young who has been nominated in Scots Writer o the Year sponsored by Scots Language Centre in the Scots Language Awards 2019. Vote now!
We asked Morna Young the following questions.
Tell us about yourself
Morna Young is a playwright, actress and musician from a wee fishing village in Moray. She was recipient of the 2017 Dr Gavin Wallace Fellowship (hosted by Creative Learning, Aberdeen City Council), the New Playwrights Award 2014 (Playwrights' Studio, Scotland) and the 'Tomorrow at Noon' award for female playwrights 2018 (Jermyn Street Theatre). In 2018, she was playwright-in-residence for BATS Theatre in Wellington, New Zealand.
Lost at Sea, her debut full-length play, premiered at Perth Theatre in April this year before touring Scotland (venues included The Kings, Edinburgh and His Majesty's, Aberdeen). Lost at Sea is an epic tale spanning forty years of the fishing industry and a personal tribute to the Scotland's coastal communities. Subsequently, the play won two Critics' Awards for Theatre in Scotland (CATS) in June 2019 and was a finalist in the Herald's Culture Awards. The text is published by Oberon.
Alongside this, Morna's comedy Aye, Elvis commenced its third outing as part of the 'People's Choice' season in April 2019 at a Play, a Pie and a Pint. Starring Joyce Falconer, the play explores the life of a female, Aberdonian Elvis impersonator. The Herald's 5* review described it as "Young's gem of a play… it's a delight".
Other plays include: The Buke of the Howlat (Findhorn Bay Arts), Smite (Jermyn Street Theatre), Netting ('A Play, A Pie and A Pint' and Scotland-wide tour with Woodend Barn), She of the Sea (Paines Plough 'Come to Where I'm From'), B-Roads (Play Pieces), Never Land (Eden Court) and two short plays for the National Theatre of Scotland's Great Yes, No, Don't Know Show. Her current commissions include Active Shooter (Pepperdine) and The Water Clan (BATS Theatre).
Morna has performed extracts of her writing at the Scottish Parliament, The European Author's Festival (Czech Republic, Slovakia, Poland), National Poetry Month (France) and Edinburgh International Book Festival.
Why are you involved in Scots language?
I didna set oot tae write in Scots, it's jeest the wye I wis brocht up tae spik. Wi a play like 'Lost at Sea', it widna mak sense tae write it ony ither wye. Hoo could ye present life in a North East fishin community withoot featurin Doric? Lost at Sea wis based aroon interviews wi local fishermen an fishin communities an I uised this verbatim text throughoot the play, woven intae a fictional story.
My Scots is a colloquial version o Doric an it isna written tae exist on paper alane. When scrievin fir stage, we anely hae oor character's wurds – their real life voices – tae tell the story. I'm a firm believer that written Scots disna need tae be 'couthy' an I wirk hard tae dismantle this notion – it exists as a contemporary language in its ain richt, inherently relevant tae the here an noo. I uise Scots tae explore current themes in a progressive wye an it's affa important tae me tae attract mare quines tae dee the same.
Any particular career highlights?
It took me eicht years fae conception tae bring Lost at Sea tae the stage. Ma ain faither wis lost at sea when I wis a bairn an I winted tae pey tribute tae the mony fishermen that hiv lost their lives. Tourin this wirk aroon Scotland this year is ma highlight an I wis fair chuft that the production wis recognised at the Critics' Awards for Theatre in Scotland an at the Herald Culture Awards. Mareower, I wis blawn awa by the response fae fishin fowk.
I'm prood tae wirk in ma ain tongue an I'm ay gled tae see the response fae audiences fan they recognise thaimsels on stage.
What are your plans for the future?
Ma interest in Scots has fuelled ma desire in lookin internationally tae expand the lens in which I consider ma wirk. In a time of risin wurldwide nationalism, it feels current an vital tae explore hoo minorities can connect. Havin uised colloquial Doric throughoot ma writin career, I'm increasingly drawn tae considerin ma wirk fae an international perspective. This includes explorin emigrated dialects in addition tae hybrid an transcontinental versions o Scots as fowk travel an relocate mair than iver. Followin a year-lang Fellowship wirkin specifically in the North East, an havin presented Doric wirk in London an throughoot Europe, it's important fir me tae continue tae form international partnerships. There are valuable conversations tae be had wi ither countries sae that we can learn fae oor peers.
I also wint tae develop ma wirk wi bairns an young fowk an I'm currently developin ideas fir Scots plays fir bairns. Scots aften stairts in the playgrun an I wint tae be a pert o nurturin those voices.
Read more about Morna Young
http://www.mornayoung.com
Facebook:
Twitter: http://www.twitter.com/mornayoung
Instagram:
If you wish to attend the Scots Language Awards, tickets are available to buy via: https://www.ticketsglasgow.com/Pages/EventDetail.aspx?EventId=8fd8b867-811e-4bfc-a2c0-aab900efc42b For box office call 0141 353 8000. Performing on Friday 27th September include Iona Fyfe Trio, Susi Briggs, Steve Byrne and more to be announced.
If you would like to support Hands Up for Trad in their work with Scottish trad music and musicians please consider supporting our Patreon campaign. We have 3 tiers starting at $1 a month and everything helps support us in our work. Read more at www.patreon.com/handsupfortrad