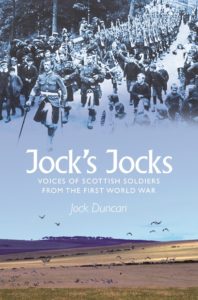 Congratulations to Jock's Jocks (book and play) who have been nominated in Scots Project o the Year in the Scots Language Awards 2019. Vote now!
We asked Gary West of Jock's Jocks (book and play) the following questions.
Tell us about yourself
Jock's Jocks is a project which is based on an extensive collection of First World War memories collected by folksinger, Jock Duncan, in rural lowland Scotland, primarily in the north east. Collected between the 1930s and 1980s, Jock spent many thousands of hours transcribing these testimonies of 59 veterans, taking great care to capture the nuances of their native north east Scots tongue. The Jock's Jocks project has been led by Gary West, who edited the collection for publication, and who wrote a one act musical play based on the material, with a cast of Scott Gardiner, Chris Wright, Charlie West and Gary himself. The book was jointly published by the EERC at the University of Edinburgh and the National Museums of Scotland in April 2019, and has been described as being 'of national significance'. 'Listening to these voices is above all a refreshing, life-enhancing experience, and affirmation of what it means to be human' (Donald Smith).
Why are you involved in Scots language?
Jock Duncan himself, now 94, grew up in rural Aberdeenshire, and has never lost his rich Doric tongue. His interviews were all conducted through a very natural Scots speech which he shared with the men whose lives he documented. In both the book and the play, we have been very careful to remain true to Jock's transcriptions, and have been committed to using the exact words spoken by the men themselves – Jock's Jocks.
Any particular career highlights?
Jock himself enjoyed a successful career as a traditional singer of note, and has been admitted to the Scottish Traditional Music Hall of fame, along with his sons, Pipe Major Ian Duncan and the late Gordon Duncan.
For the Jock's Jocks team, a highlight was performing the play with Jock in attendance in Blair Atholl, at which he joined in and began retelling all of the stories to the audience!
What are your plans for the future?
A website is being set up through the University of Edinburgh to host all of the original recordings made by Jock, so that they can be widely shared and heard, along with full transcriptions and other supporting materials. The book is already on its first re-print, and there are plans to tour the play
Read more about Jock's Jocks (book and play)
https://shop.nms.ac.uk/products/jocks-jocks
Facebook: https://www.facebook.com/gary.west.127648
Twitter: http://www.twitter.com/@garyjwest
Instagram: http://www.instagram.com/garyjwestmusic
If you wish to attend the Scots language awards, tickets are available to buy via: https://www.ticketsglasgow.com/Pages/EventDetail.aspx?EventId=8fd8b867-811e-4bfc-a2c0-aab900efc42b For box office call 0141 353 8000 or email box@horsecross.co.uk. Performing on Friday 27th September include Iona Fyfe Trio, Susi Briggs, Steve Byrne and more to be announced.
If you would like to support Hands Up for Trad in their work with Scottish trad music and musicians please consider supporting our Patreon campaign. We have 3 tiers starting at $1 a month and everything helps support us in our work. Read more at www.patreon.com/handsupfortrad
This post is also available in: English