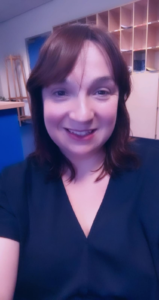 Congratulations to Jill Haywood who has been nominated in Scots Teacher o the Year sponsored by Scottish Qualifications Authority in the Scots Language Awards 2019. Vote now!
We asked Jill Haywood the following questions.
Tell us about yourself
My name is Jill Haywood and I live in Glasgow. I am a teacher of Scots Language, Scottish Studies, History and English at Smithycroft Secondary school in the East End of Glasgow. I have a degree in Scottish Studies and Scottish Literature and it was from this that my interest in Scots Language has stemmed.
Scots is all around me at work; at home; in my community and it is such a pleasure to be involved in teaching and promoting the language.
Why are you involved in Scots language?
I have always been interested in Scots Language and literature. I love the richness and expressiveness of Scots; its complexity; the way the language has survived and flourished in the face of competing cultural influences; the sense of pride and identity it can foster and the voice it gives to our young people.
I introduced the Scots Language award at Smithycroft in 2016 and uptake and achievement has continued to grow. Our learners are immensely enthusiastic about working in Scots; it has been an amazing confidence boost to many who have relished the opportunity to freely express themselves in their mother tongue. The added bonus of being able to achieve an award has really added to their motivation. I love being around all this creativity and energy!
Now is great time to be involved with Scots, with all the amazing authors writing and being published in Scots, the translations of so many texts, the introduction of an SQA Award and the new technology such as the Scots Language apps. It feels very exciting to be a wee part of this.
Any particular career highlights?
Working within our growing Scots Language community which is vibrant, optimistic and inclusive is such a pleasure and privilege. Recently, I worked in collaboration with Glasgow University and Education Scotland with a project which was initiated by the Scottish Government to develop curricular resources to engage BGE pupils with Scots Language. This was a really great experience and I was delighted to be part of it.
I would say though, the real highlight has been my involvement with the organisation of creative writing projects in my school, where I have been lucky enough to work with esteemed Scots writers including Samuel Best, Hamish MacDonald and Chris McQueer. Providing pupils with opportunities to work with and learn from these acclaimed writers has really meant a lot to me as it is clear how beneficial and enjoyable this has been for so many of our young people here at Smithycroft.
What are your plans for the future?
I really hope that I can continue to harness the enthusiasm for Scots our young people and community have, here at Smithycroft Secondary and keep working to support and promote this part of our culture and heritage.
I also hope to expand on achievements made to promote the historical background of Scots and support other schools in their delivery of this. Being aware of the factors which have influenced contemporary Scots Language and understanding the origins and history of the language helps to challenge some cultural preconceptions and ensures Scots receives the recognition it deserves.
If you wish to attend the Scots Language Awards, tickets are available to buy via: https://www.ticketsglasgow.com/Pages/EventDetail.aspx?EventId=8fd8b867-811e-4bfc-a2c0-aab900efc42b For box office call 0141 353 8000. Performing on Friday 27th September include Iona Fyfe Trio, Susi Briggs, Steve Byrne and more to be announced.
If you would like to support Hands Up for Trad in their work with Scottish trad music and musicians please consider supporting our Patreon campaign. We have 3 tiers starting at $1 a month and everything helps support us in our work. Read more at www.patreon.com/handsupfortrad
This post is also available in: English