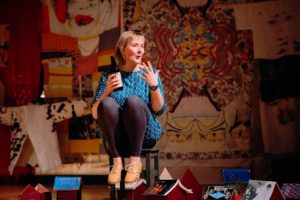 Congratulations to Ishbel McFarlane who has been nominated in Scots Speaker o the Year in the Scots Language Awards 2019. Vote now!
We asked Ishbel McFarlane the following questions.
Tell us about yourself
A'm a scriever an theatre makar frae Kinross-shire, though A've bin steyin in Glesga near a decade so A'm at least pairt Glaswegian noo. In 2014-2015 A made a piece o theatre cried O is for Hoolet aboot ma ain experience wi Scots. Hoolet won the Platform 18 Award frae the Arches and the Traverse an his bin tourin on an off fir the past fower year. In 2018, alang wi Gaelic and British Sign Leid specialists, A made trainin fir warkplaces oan Scotlands three native minority leids. A scrieve a column in Scots fir The National an aw.
Why are you involved in Scots language?
Ma mither an faither wis Scots leid campaigners in the 1970s and 1980s an it wis ma first leid. Like monie bairns, A rejectit it when A wis at the schuil as A wis tellt it was bad an wrang. A cam back tae Scots through theatre an through studyin Scottish Ethnology. A wis aye readin an hearin Scots but it wisnae until A hid the chaunce tae mak airt in it that A tuik it back fir masel.
Any particular career highlights?
Tourin O is fir Hoolet aw ower Scotland, frae Thurso tae Wigton, an Eyemooth tae Coll. The conversations A hid, formally an informally, developed no jist ma career but ma sowl. It can be a sair fecht warkin in yer ain minority leid, but it can be a salve an aw.
What are your plans for the future?
Ma neist shaw is explorin Scotland's three native minority leids: Scots, BSL and Gaelic. Warkin across aw thae leids is a passion o mines. Whan it comes tae oor leids, we're better thegither. Mon the minoritised leids!
Read more about Ishbel McFarlane
http://www.ishbelmcfarlane.com
Facebook: http://www.facebook.com/IshbelMcF
Twitter: http://www.twitter.com/IshbelMcF
If you wish to attend the Scots Language Awards, tickets are available to buy via: https://www.ticketsglasgow.com/Pages/EventDetail.aspx?EventId=8fd8b867-811e-4bfc-a2c0-aab900efc42b For box office call 0141 353 8000. Performing on Friday 27th September include Iona Fyfe Trio, Susi Briggs, Steve Byrne and more to be announced.
If you would like to support Hands Up for Trad in their work with Scottish trad music and musicians please consider supporting our Patreon campaign. We have 3 tiers starting at $1 a month and everything helps support us in our work. Read more at www.patreon.com/handsupfortrad
This post is also available in: English