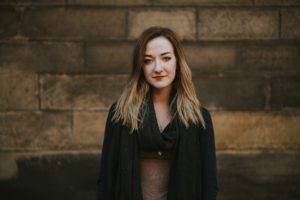 Congratulations to Iona Fyfe who has been nominated in Young Scots Speaker o the Year sponsored by Education Scotland in the Scots Language Awards 2019. Vote now!
We asked Iona Fyfe the following questions.
Tell us about yourself
Am a Scots sangster fae Huntly, Aiberdeenshire. I hae grown up aneth the tradition, learnin tradition ballads fae sangsters an' gan tae singaroons an' folk clubs. A bide in Glesca noo an' I recently graduated wi a first class honours degree in Traditional Music fae I Royal Conservatoire o Scotland. I tour wi ma trio wi Aidan Moodie an Charlie Grey. Wiv been a ower, singin oor sangs, ballads and bothy ballads in Germany, France, Italy, Czech Republic, Austria, Switzerland, Poland an as hine oot as Australia an' Canada. A've bin a National Director o' the TMSA (Traditional Music and Song Association) fir a puckle o year an noo sit on the Scotland & NI Regional Committee o' I Musicians Union.
Why are you involved in Scots language?
Fin I wis five year aul, my faimly teen me tae the Keith TMSA festival and giy near forced me inti enterin i' doric poetry wi' a short poem by Sheena Blackhall. Each year i gid back an stairtit gan tae the ither competitions tae compete in the doric poetry an also the ballad singin inaa. I stairtet tae learn poems b brilliant north east poets sic as Ian Middleton an' wis giy fond o it. But singin won ma hairt and i stairted singin mair than deein doric poetry.
It's nae an easy question tae tell ye why I'm involved in scots leid, it's jist natural. The wey that I interpret ballads an' bothy ballads o' Aiberdeenshire means thit I get tae sing in my mither tongue and I hae a creative ootlet far I can sing in the broad dialect that these sangs ging wi' an were originally sang in. Fir me, I'm affa fond o getting scots bands an sangsters recognised jist as muckle as ither musical acts on a warld stage; an geein recognition tae scots sangsters wha embrace their dialect in sang and wha champion a regional dialect.
Any particular career highlights?
Career highlights thit are maist dear tae me is fan I won Scots Sangster o' The Twalmont at the Scots Trad Music Awards. It wis a goal o mine since I wis in ma teens an I wis sae prood tae win it. A high pint wis fan The Living Tradition magazine pit me on their front cover ina.
In January, I hid a braw time singin at the warld premiere o' Disney Pixar's Brave in Concert held at yon Glesca Royal Concert Haa. Singin wi' the Scottish symphony Orchestra wis sic an experience fir ma. It's haird ti pinpint highlights, as maist o the gigs jist roll inti wan. I taen part in the Scottish Colours tour in Austria last year an' we hid jist the brawest time toorin aboot the kintra an bringin my sangs tae heaps o fowk. In 2018, a releaed ma debut album, thit wis inspired b the source sangsters an tradition bearers o' Aiberdeenshire. I sampled a clippy o' Stanley Robertson an Lizzie Higgins; twa singers fa inspired me greatly despite niver meetin thim.
What are your plans for the future?
Neist year, we hae a busy schedule tourin the UK, an Denmark in I' first sax months o' I year an well be visitin bonny places wiv niver bin afore. I hope tae be recordin' an' releasin ma seicont album seen enouch.
Read more about Iona Fyfe
http://www.ionafyfe.com
Facebook: http://www.facebook.com/ionafyfe
Twitter: http://www.twitter.com/ionafyfe
Instagram: http://www.instagram.com/iona.fyfe
If you wish to attend the Scots Language Awards, tickets are available to buy via: https://www.ticketsglasgow.com/Pages/EventDetail.aspx?EventId=8fd8b867-811e-4bfc-a2c0-aab900efc42b For box office call 0141 353 8000. Performing on Friday 27th September include Iona Fyfe Trio, Susi Briggs, Steve Byrne and more to be announced.
If you would like to support Hands Up for Trad in their work with Scottish trad music and musicians please consider supporting our Patreon campaign. We have 3 tiers starting at $1 a month and everything helps support us in our work. Read more at www.patreon.com/handsupfortrad