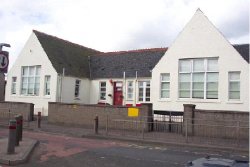 Congratulations to Hill of Beath Primary School & Nursery who have been nominated in Scots School o the Year sponsored by Itchy Coo and Black and White Publishing in the Scots Language Awards 2019. Vote now!
We asked Maureen Lewis of Hill of Beath Primary School & Nursery the following questions.
Tell us about yourself
Hill of Beath Primary School is a single stream school with 172 pupils and space for 48 nursery children in morning and afternoon sessions. It was built by Fife Coal Company in 1890 to educate the sons and daughters of the mining community, and celebrates it's 130th birthday this session. The school is a real gathering place for the community and our pupils and families are at the hub of most community events in the village.
The school and Ex-Servicemen's Club are the only 2 public buildings in the village, so leadership teams of both work closely together to provide support to the community.
Our foremost role in school/nursery is to educate pupils, but we see parental and community engagement as vital to getting the best from and for our young people.
Why are you involved in Scots language?
Although the village is linked to larger towns by bus, there is a self-sufficiency and pride in the community that prompts villagers to celebrate the uniqueness of Hill of Beath. This presents in school as pupils who are keen to embrace and celebrate their heritage. Scots language is the first language for many of our pupils, so we have developed an approach that interweaves Scots language and culture across learning.
We have actively sought the support of Scots authors, local 'heroes' and Fife-based groups to present our children with learning opportunities that recognise and promote traditional values and Scots language. Our staff, parents, pupils and community all play an important role in this and to add to the rich culture of 'Scots for all'.
Any particular career highlights?
In relation to Scots language, I have been privileged to work with Matthew Fitt for a number of years. I first made contact with Matthew at an Itchy Coo CPD presentation for teachers, then I was able to engage him to work with pupils through Live Literature Author visit funding. having seen the impact this was having on our pupils and families, Matthew was able to support us through subsequent visits, and has now agreed to undertake a Beath Cluster Author-in -Residence Programme to spread our work across neighbouring primaries, and build links into our local secondary school.
I am also very proud of having supported the Jennie Lee project (celebrating her achievements including the opening of the Open University). Jennie was a Beath High pupil who went on to become a member of Parliament and to fight for the rights of working people across the country. I am a trustee of the Jennie Lee Foundation.
What are your plans for the future?
Along with Fife's 1 + 2 Language Development Officer, the Director of Primary Language Platform and Matthew Fitt the school is working on an ambitious initiative to create Scotland's first Curriculum for Excellence Planners for Scots Language.
These will be supported with a range of electronic resources and support. Following this, we hope to package a 'How to' guide to introducing Scots Language and Culture across schools, and to develop guideline for people wanting to 'follow in our footsteps'.
Read more about Hill of Beath Primary School & Nursery
https://www.fifedirect.org.uk/schoolsite/index.cfm?fuseaction=page.display&pageid=04344AEB-0C33-54EC-D992CAFCB79DC367&siteID=04344A8D-F10D-B3B7-7444397891F1A09E
Facebook:
Twitter: https://twitter.com/HillofBeathPS
Instagram:
If you wish to attend the Scots Language Awards, tickets are available to buy via: https://www.ticketsglasgow.com/Pages/EventDetail.aspx?EventId=8fd8b867-811e-4bfc-a2c0-aab900efc42b For box office call 0141 353 8000. Performing on Friday 27th September include Iona Fyfe Trio, Susi Briggs, Steve Byrne and more to be announced.
If you would like to support Hands Up for Trad in their work with Scottish trad music and musicians please consider supporting our Patreon campaign. We have 3 tiers starting at $1 a month and everything helps support us in our work. Read more at www.patreon.com/handsupfortrad
This post is also available in: English