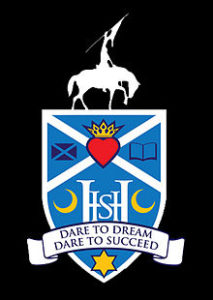 Congratulations to Hawick High School who have been nominated in Scots School o the Year sponsored by Itchy Coo and Black and White Publishing in the Scots Language Awards 2019. Vote now!
We asked Thomas Clark of Hawick High School the following questions.
Tell us about yourself
There arenae mony schuils in Scotland that can claim tae hae Mel Gibson amang their teachin staff – but Hawick high Schuil is yin o them! When Gibson got on his glad rags tae play James Murray in the 2019 film The Professor and the Madman, he micht hae thocht he wis immortalisin the faither o the Oxford English Dictionary; but tae local wirthies in Murray's Border hame, his maist important contribution tae the warld wis makkit when he wis a dominie at Hawick, gaitherin the materials for whit wad become the first academic study o Hawick's distinct local tongue, "Dialect of the Southern Counties of Scotland". Syne then, Hawick an its high schuil hae been kent the warld ower for its rugby players, its Common Riding, an – no least o aw – its braid, braid Scots.
Why are you involved in Scots language?
Hawick is weel-kent for the uniqueness o its local dialect o Scots, aft referred tae bi its uisers as "Teri" or "Teri-talk", a wird that derives fae the toon's kenspeckle motto, "Teribus ye teri odin". The darg o keepin alive this precious dialect has lang been taen on bi the bairns an staff o Hawick High Schuil – an it's in nae sma pairt thanks tae them that Teri-talk continues tae be the lingua franca o the howffs an wynds o the "auld grey toon".
Any particular career highlights?
Tho it's mebbe for its contribution tae Scotland's national rugby team that the schuil is best kent, Hawick High has a lang an prood tradítion o uphaudin the language an culture o wan o the maist distinctively Scots-spikkin pairts o the kintrae. The schuil's annual celebration o the toon's weel-kent Common Riding, its ootstandin record in the Robert Burns World Federations's Scottish Schuils Competitions, an its nationally renowned Burns Suppers are partícular high pynts o the schuil's annual an contínual contribution tae the guid health o the Scots leid.
What are your plans for the future?
Hawick High Schuil has been at the centre o a vibrant Scots-spikkin community for hunners o years, an thon's no aboot tae chynge. Wi ilka year bringin a brent-new influx o prood Scots spikkers in throu the schuil doors, the lang-staundin tradítions o the toon an its Teri-talkin residents is shuirly in safe hauns!
Read more about Hawick High School
http://www.hawickhighschool.co.uk
Facebook: https://www.facebook.com/hawickhighnews/
Twitter: http://www.twitter.com/hawickhighnews
Instagram: http://www.instagram.com/
If you wish to attend the Scots language awards, tickets are available to buy via: https://www.ticketsglasgow.com/Pages/EventDetail.aspx?EventId=8fd8b867-811e-4bfc-a2c0-aab900efc42b For box office call 0141 353 8000 or email box@horsecross.co.uk. Performing on Friday 27th September include Iona Fyfe Trio, Susi Briggs, Steve Byrne and more to be announced.
If you would like to support Hands Up for Trad in their work with Scottish trad music and musicians please consider supporting our Patreon campaign. We have 3 tiers starting at $1 a month and everything helps support us in our work. Read more at www.patreon.com/handsupfortrad