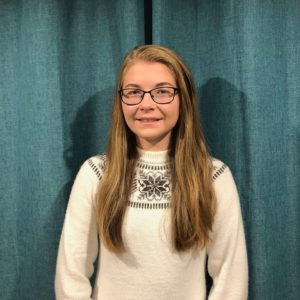 Congratulations to Hannah Lisa Laurenson who has been nominated in Young Scots Speaker o the Year sponsored by Education Scotland in the Scots Language Awards 2019. Vote now!
We asked Hannah Lisa Laurenson the following questions.
Tell us about yourself
My name is Hannah-Lisa Laurenson an I am 16 years ald. I wis born and browt up in Shetland whar I hoop tae continue tae live for da rest o my life. Eenoo I am in secondary five at da Brae High School in my hom village.
Faemily is a very important aspect o my life and insipired my story " Da Maa's Eggs". As a bairn my nana telt me a story aboot a man wha geed doon da dramatic cliffs at da Ham o Roe in da nort o Shetland tae get maas eggs wi his bairn on his back. I elaborated on dis memory tae allow da story tae develop tae be aboot a grandfaider telling da story tae his grandbairns. Da use o speech allowed me tae tell da story but also express da feelings felt by da grandfaider and grandbairns. My National Five portfolio piece caad "Hom tae Skerries" wis also in Shetland dialect. It wis based around family but in a different aspect as da young maid is tryin tae get hom tae support her faemily as her faider is braley ill.
Why are you involved in Scots language?
Fae a bairn I could spik Shetland dialect as I wis brought up aroond a very broad spikin Shetland dialect family. My bridders and I hae parents fae different parts o Shetland which has med our dialect develop tae hae a range o different wirds as each area o Shetland his dir own distinct dialects. Both side o my faemily ir heavily involved in croftin an dat his influenced my strong dialect farder. I hiv learnt mony new words due tae being among crofters fae aa across Shetland as dey aa hae a deep inheritance o Shetland dialect.
Personally I hiv ey fun it easier tae write in Shetland dialect as it wis how I spik and wis allowed tae express my talent in da Shetland Young Writer of the Year on many occasions. Dis competition promoted da use o Shetland dialect as entries could be written in English or dialect an dat encouraged bairns fae aa across Shetland to write in whitiver wye dey felt most comfortbale
Any particular career highlights?
By far da highlight wis winning da Shetland Senior Dialect Writer of the year 2018 wi my story " Da Maa's Eggs". Da Judges stated dat dey were" impressed with the ease of dialect expressions in this piece- it sounds very natural and unforced, and dialogue was very well incorporated into the narrative. The story itself makes excellent use of historical material and details of traditional Shetland Life to depict the harshness of life at that time, as well as showing the strength of close family life necessary to overcome difficulties." I wis geen da opportunity right fae senior primary school tae enter da competitions and da feelin o pure joy when I eventually won it in 2018 was unreal. As peart o being da winner I hed tae read oot my story on Radio Shetland which wis braley nerve racking as I am no a very confident spiker but we da help o da very encouraging Mary Blance (radio presenter) I wis able tae reed it oot. As it wis in Shetland dialect it allowed my natural voice to express the emotions of the story further and for da story tae flow weel.
I wis also highly commented for my story " In da Mirrie Een o a Foal" in 2017 when I entered into the Shetland Young Writer of the Year competition. Da judges also geed feedback dat "The whole piece is full of deep light and creaturely sensation; it's really a pleasure to read." and dat "The narrative reads so well: natural and flowing."
As part o my National 5 English portfolio I also wrot a piece in Shetland dialect wi a glossary tae go taewards my final mark. Dis story wis caad "Hom tae Skerries" which wis aboot a maid wha wis trying tae win hom tae her faemiy as her faider wis become barley ill. I used alok o speech in my story tae elaborate da setting o being on a boat and da connections which da maid felt we the other characters in da story. I wis very please tae git 28/30 as a combination mark fir my dialect story and a piece o persuasive writing. Dis boosted my marks and I wis geen an A as my final grade.
What are your plans for the future?
I hoop tae achieve my higher English dis year as part o my curriculum at school. Wance I leave school I am aiming tae wirk we bairns in a school setting whaar I will promote da Shetland dialect as much as I can. Da traditional Shetland Dialect will continue tae be an important piece o my language whar I hoop tae write more in depth pieces dat will explore da Shetland dialect, heritage and culture in more complex wyes we da use o speech.
Read more about Hannah Lisa Laurenson
Facebook: http://www.facebook.com/
Twitter: http://www.twitter.com/
Instagram: http://www.instagram.com/
If you wish to attend the Scots Language Awards, tickets are available to buy via: https://www.ticketsglasgow.com/Pages/EventDetail.aspx?EventId=8fd8b867-811e-4bfc-a2c0-aab900efc42b For box office call 0141 353 8000. Performing on Friday 27th September include Iona Fyfe Trio, Susi Briggs, Steve Byrne and more to be announced.
If you would like to support Hands Up for Trad in their work with Scottish trad music and musicians please consider supporting our Patreon campaign. We have 3 tiers starting at $1 a month and everything helps support us in our work. Read more at www.patreon.com/handsupfortrad
This post is also available in: English