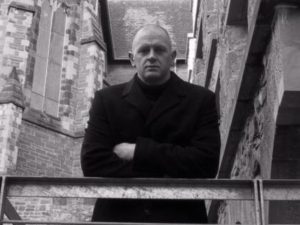 Congratulations to Gary Robertson who has been nominated in Scots Performer o the Year sponsored by Tracs in the Scots Language Awards 2019. Vote now!
We asked Gary Robertson the following questions.
Tell us about yourself
I am an author, a poet, a playwright and lead singer/piper with Dundee band The Cundeez. A self-confessed keep-fit fanatic and keen mountaineer, I won the original BBC 2 reality TV series 'SAS – Are You Tough Enough?' During the day I work for Dundee City Council as a binman and love it.
Why are you involved in Scots language?
I write from the heart as language I believe, especially local dialect, brings to life the characters from the streets and cities where we live. A true expression of love for our surroundings whether in written form or oral spoken word.
Any particular career highlights?
Stage play 'The Berries' SOLD OUT twice with 8 shows at the Bonar Hall, Dundee
Stage play 'The Berries' SOLD OUT twice at Dundee Rep Theatre with 14 shows.
Stage play 'The Scaffies' SOLD OUT twice at Dundee Rep Theatre with 12 shows.
Stage play 'The Middle o Nowher – A Bothy Haunting' SOLD OUT at Dundee Rep Theatre with 7 shows.
4 books published, Gangs Of Dundee, Pure Dundee (poetry collection), Skeem Life, What's It All About Ralphie? (footballer Ralph Milne's autobiography)
Appeared on various TV and Radio programmes talking about and performing Dundonian Street Poetry and the 'Oary' Dundee language.
Perform all over the country and beyond (including Holland and America) with The Cundeez delivering all lyrics in Dundee dialect.
What are your plans for the future?
To keep promoting the Dundee dialect, the stories and the people through words, poetry, plays and song. Definitely looking to write something for TV and or film.
Read more about Gary Robertson
Facebook: http://www.facebook.com/GaryRobertson
Twitter: http://www.twitter.com/DundeePoet
Instagram: http://www.instagram.com/
If you wish to attend the Scots Language Awards, tickets are available to buy via: https://www.ticketsglasgow.com/Pages/EventDetail.aspx?EventId=8fd8b867-811e-4bfc-a2c0-aab900efc42b For box office call 0141 353 8000. Performing on Friday 27th September include Iona Fyfe Trio, Susi Briggs, Steve Byrne and more to be announced.
If you would like to support Hands Up for Trad in their work with Scottish trad music and musicians please consider supporting our Patreon campaign. We have 3 tiers starting at $1 a month and everything helps support us in our work. Read more at www.patreon.com/handsupfortrad