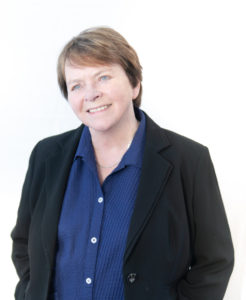 Congratulations to Frieda Morrison who has been nominated in Scots Media Person o the Year in the Scots Language Awards 2019. Vote now!
We asked Frieda Morrison the following questions.
Tell us about yourself
Scots Radio is an online magazine programme, that celebrates athin tae dae wi the Scots Language. We dinna aften spik aboot Scots – we spik IN Scots – an enjoy the company o fowk that jist spik it. We hiv music tae mak yir taes tap as week – an a invitation tae jine in the rummels an the rovins.
Why are you involved in Scots language?
It's my first language – I'm prood o the fowk I've come fae – and the place I come fae. I wid like mair fowk tae find the treasure that is oor Scots Language.
Any particular career highlights?
Scots Radio has been nominated three times for an award at the Celtic Media Festival – competing wi the big companies like BBC an RTE. The Scots Radio Team are prood o that achievement.
What are your plans for the future?
To train mair fowk in the black art of broadcasting. And play better golf…
Read more about Frieda Morrison
http://www.scotsradio.com
Facebook: https://www.facebook.com/scotsradiomedia
Twitter: http://scotsradiomedia.com
Instagram: http://www.instagram.com/
If you wish to attend the Scots language awards, tickets are available to buy via: https://www.ticketsglasgow.com/Pages/EventDetail.aspx?EventId=8fd8b867-811e-4bfc-a2c0-aab900efc42b For box office call 0141 353 8000 or email box@horsecross.co.uk. Performing on Friday 27th September include Iona Fyfe Trio, Susi Briggs, Steve Byrne and more to be announced.
If you would like to support Hands Up for Trad in their work with Scottish trad music and musicians please consider supporting our Patreon campaign. We have 3 tiers starting at $1 a month and everything helps support us in our work. Read more at www.patreon.com/handsupfortrad
This post is also available in: English