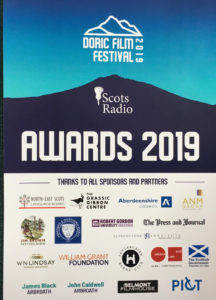 Congratulations to Doric Film Festival who have been nominated in Scots Project o the Year in the Scots Language Awards 2019. Vote now!
We asked Frieda Morrison of Doric Film Festival the following questions.
Tell us about yourself
The first Doric Film Festival wis launched in January 2019 – produced by Scots Radio – an Directed bi Frieda Morrison. The idea, wis tae create a competition for Schools, Individuals and Community Group – tae mak a five minute film in Doric on the theme "Fit Dis The North East Mean Tae me?" Triainin sessions were organised throu-oot the area and there wis a huge response wi oer thirty films makin the deadline for entries – 11 schools, 11 Individuals an 8 Community Groups fae aa roon the North East. Sponsorship was socht an geen an on the 2nd July 2019, the Festival Team welcomed aroon two hundred an fifty fowk intae the Belmont Cinema in Aiberdeen tae watch an tak pairt in the glitzy 'Oscar' style awards ceremony. Each winner was presented with a specially designed plague an a cheque for £500. The first Doric Film Festival gave fowk o aa ages a new platform an a chance tae hae their say in their ain language. The second Doric Film Festival is being launched in October.
Why are you involved in Scots language?
On behalf o the Doric Film Festival team, we are involved wi the Scots Language, because we are prood o far wi come fae, and the fowk w come fae.
Any particular career highlights?
The Doric Film Festival gave the North East Community a new platform tae hae their say.
It geed us immense pride tae see aa the School bairns, Indiividuals an Community Groups, aa dressed up in their film-star outfits – gaitherin in the Belmont Cinema – an enjoyin the films, the music, spikkie bits an films. This wis a special day.
What are your plans for the future?
Tae launch the second Doric Film Festival.
Read more about Frieda Morrison
http://www.doricfilmfestival.com
Facebook: http://www.facebook.com/doricfilmfestival
Twitter: http://www.twitter.com/scotsradiomedia
Instagram: http://www.instagram.com/
If you wish to attend the Scots language awards, tickets are available to buy via: https://www.ticketsglasgow.com/Pages/EventDetail.aspx?EventId=8fd8b867-811e-4bfc-a2c0-aab900efc42b For box office call 0141 353 8000 or email box@horsecross.co.uk. Performing on Friday 27th September include Iona Fyfe Trio, Susi Briggs, Steve Byrne and more to be announced.
If you would like to support Hands Up for Trad in their work with Scottish trad music and musicians please consider supporting our Patreon campaign. We have 3 tiers starting at $1 a month and everything helps support us in our work. Read more at www.patreon.com/handsupfortrad