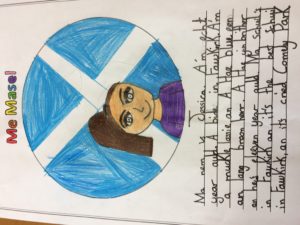 Congratulations to Comely Park Primary School who have been nominated in Scots School o the Year sponsored by Itchy Coo and Black and White Publishing in the Scots Language Awards 2019. Vote now!
We asked Katrina Lucas of Comely PakPrimaryShol the following questions.
Tell us about yourself
Comely Park primary is in the very heart of Falkirk. We have around 430 bairns and collectively speak 26 home languages.
Why are you involved in Scots language?
Scots is an important part of Curriculum for Excellence: it is not only a feature of the literacy curriculum, but can also feature as part of the 1+2 languages offer. At Comely Park we consider Scots to be culturally and educationally important. It engages children and helps them to develop and transfer their literacy skills while enhancing their cultural identity.
Any particular career highlights?
As with other Scottish schools most of our Scots focus takes place during November and January, however we do believe that practitioner confidence and Scots skills are key. as such we have offered Scots CPD for nursery practitioners, primary and secondary teachers with an emphasis on practical approaches and resources.
What are your plans for the future?
We would like to extend this work by developing our engagement with parents and carers.
Read more about Comely PakPrimaryShol
Facebook: http://www.facebook.com/
Twitter: http://www.twitter.com/
Instagram: http://www.instagram.com/
If you wish to attend the Scots Language Awards, tickets are available to buy via: https://www.ticketsglasgow.com/Pages/EventDetail.aspx?EventId=8fd8b867-811e-4bfc-a2c0-aab900efc42b For box office call 0141 353 8000. Performing on Friday 27th September include Iona Fyfe Trio, Susi Briggs, Steve Byrne and more to be announced.
If you would like to support Hands Up for Trad in their work with Scottish trad music and musicians please consider supporting our Patreon campaign. We have 3 tiers starting at $1 a month and everything helps support us in our work. Read more at www.patreon.com/handsupfortrad
This post is also available in: English