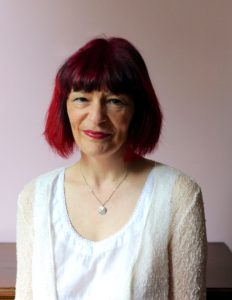 Congratulations to Anne Donovan who has been nominated in Scots Bairns' Book o the Year sponsored by Scottish Government in the Scots Language Awards 2019. Vote now!
We asked Anne Donovan the following questions.
Tell us about yourself
Author of the short story collection, Hieroglyphics and other Stories, and the novels, Buddha Da, Being Emily and Gone Are The Leaves, all published by Canongate.
Recently translated Roald Dahl's Matilda into Scots for ItchyCoo/Black and White Publishing.
Why are you involved in Scots language?
Writer in Scots.
Any particular career highlights?
Buddha Da was shortlisted for many prizes including the Orange Prize and the Dublin International IMPAC Award, and won Le Prince Maurice Award in Mauritius. Gone Are The Leaves was shortlisted for the Saltire Scottish Literary Book of the Year Award. And now nominated for Scots Language Award.
What are your plans for the future?
Nae idea!
Read more about Anne Donovan
http://annedonovan.scot
Facebook: http://www.facebook.com/
Twitter: http://www.twitter.com/
Instagram: http://www.instagram.com/
If you wish to attend the Scots Language Awards, tickets are available to buy via: https://www.ticketsglasgow.com/Pages/EventDetail.aspx?EventId=8fd8b867-811e-4bfc-a2c0-aab900efc42b For box office call 0141 353 8000. Performing on Friday 27th September include Iona Fyfe Trio, Susi Briggs, Steve Byrne and more to be announced.
If you would like to support Hands Up for Trad in their work with Scottish trad music and musicians please consider supporting our Patreon campaign. We have 3 tiers starting at $1 a month and everything helps support us in our work. Read more at www.patreon.com/handsupfortrad
This post is also available in: English