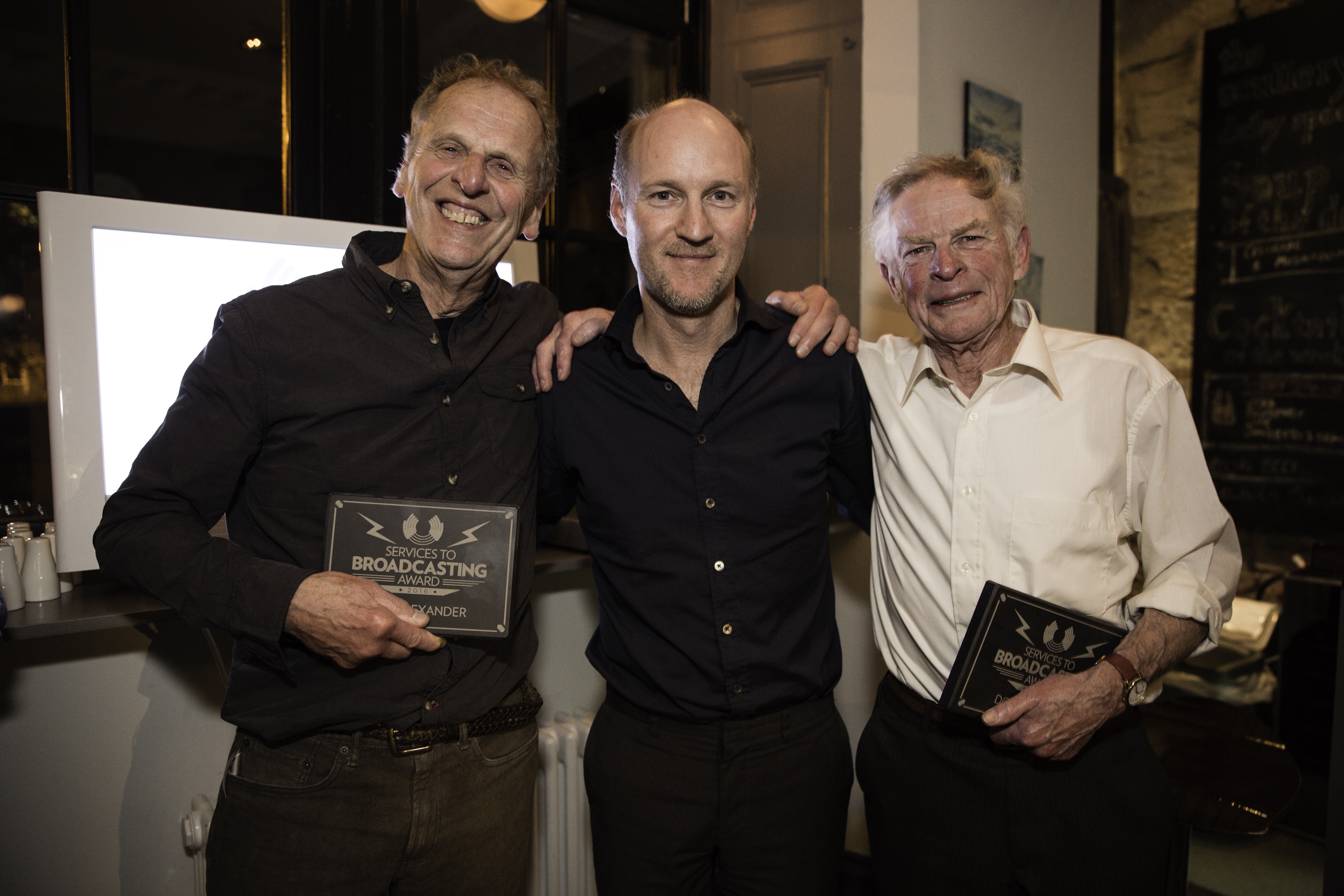 We had a lovely time celebrating Douglas Eadie and Mike Alexander on Friday 14th October in The Scullery restaurant, Glasgow. Douglas and Mike invited their friends along for drinks and a beautiful meal. Just after the main course we presented them with their Broadcasting Awards. We showed a showreel of their work, Simon read a message from Aly Bain (see below) and Donald Shaw presented them with their awards. Read about Douglas and Mike's work which includes Downhome, Shetland Sessions and the Transatlantic Sessions here. You can see the evening photos below.
Aly Bain message for Douglas and Mike:
One day around 1983 I was sitting at home on a day off relaxing when I heard a knock at the door. When I opened the door two guys were standing there and though I didn't know it at the time, they would change my life forever. I already knew Doug Eadie as we had made a very successful TV AD for road safety with Bill Patterson and Owen Hand. The other guy I didn't know, he looked skinny and a little nervous with these sharp blue eyes. That was my first meeting with Mike Alexander. They asked me if I would like to travel all round Scotland, Canada, and America playing with and filming all my favourite Fiddle players. Took me under a second to decide. The rest is history. To work with Mike directing is something very special. He loves the music as much as I do and it shows. Every thing we did was filmed with care, love and respect. I also got to know the meaning of Chop Chop as we sped from one location to another. Most of our ideas came in some Glasgow pub after a good few drinks. Once Doug got the bit between his teeth there was no stopping him. If you want a secure safe life free from care and the various woes it brings, don't become an Independant film company. What Mike and Doug have done over the years has been a hard struggle. They've never taken the easy option.They have stayed here in the country they love and helped preserve Scottish film making. We always said that the music we filmed should stand the test of time, and it has, and it will for as long as people love music and beautiful filming. I got my dates mixed up so I'm in Portugal instead of being with you. If you were here we might have another wee idea. Congratulations, no one deserves this award more than you do. So many great great memories, I love you both, Aly.
Default Gallery Type Template
This is the default gallery type template, located in:
/home/projects/public_html/wp-content/plugins/nextgen-gallery/products/photocrati_nextgen/modules/nextgen_gallery_display/templates/index.php.
If you're seeing this, it's because the gallery type you selected has not provided a template of it's own.