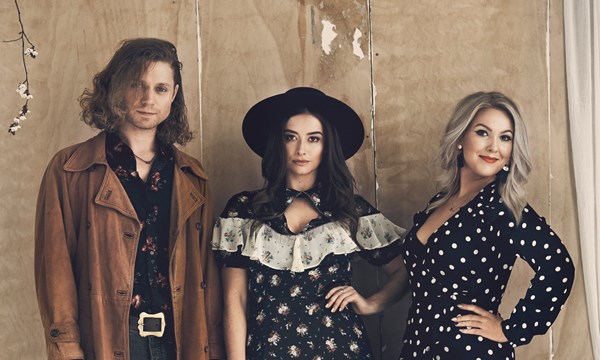 The Oran Mor was packed for this Celtic Connections show, with tickets sold out, and a crowd of all ages waiting to hear the acts.  Zoe Graham was first up.  As I walked down the stairs to the venue, I could hear an impressively full sound emanating from the stage, and I thought Graham had been joined by her band.  As it was, it was the singer herself creating a powerful beat with a synthesiser.  Graham has a strong presence as a solo act, using the keyboard to complement her vocals and electric guitar.  With each instrument, and careful use of a loop pedal, she adds layers of riffs to her songs.  These match her melodic vocal lines, as she sings personal stories with a distinctly Glaswegian turn of phrase.  By the end of her set, Graham had built up a good rapport with the audience, and I made a mental note to listen to her two new singles.
The Wandering Hearts began with their rhythm section – guitar, bass & drums – coming on first, setting a rock beat that worked to get the crowd going.  The trio then entered – Francesca Whiffin (vocals, mandolin), A.J. Dean (vocals, acoustic guitar) & Tara Wilcox (vocals) – and went straight into 'Fire and Water', an upbeat number from their first album Wild Silence.  From there they went straight into 'Wish I Could', their most successful single to date.  This song started strongly, with an a cappella 3-part harmony, and by the end of the song they had the crowd singing along.
In between songs, the band explained that they were currently writing for a second album, and they used the show as an opportunity to try out some new material.  This included a live debut for 'Instead of You', where the arrangement and harmonies had definite hints of Fleetwood Mac.  For many of the new songs, however, the group relied heavily on their backing band, and I was left wondering if they could handle a show with just the three of them.  Interestingly, their next tour is a more stripped back affair, so they may be about to answer that question.  In any case, it was an enjoyable show, and the audience were clearly having a good time, singing along again to the encore song 'Devil' as they climbed back up the steps to Great Western Road.
Alan Murray