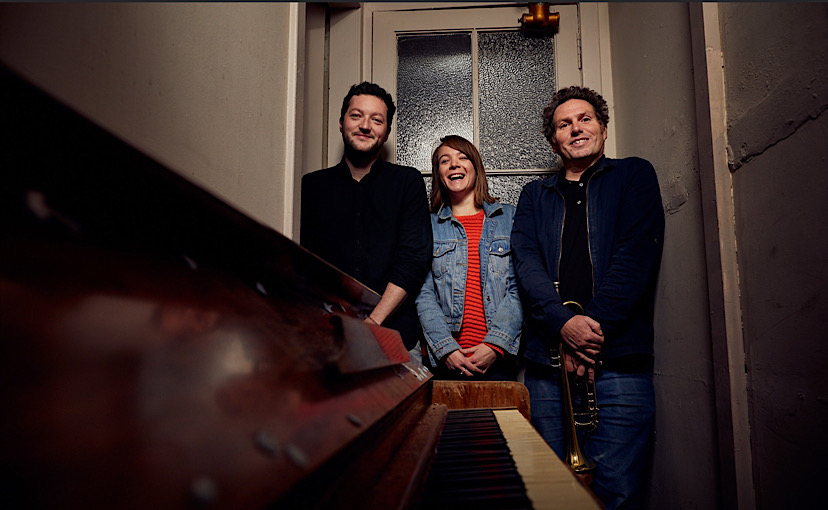 The High Rolling Sessions are a relatively new entity, but the Edinburgh-based band are full of musicians with a wealth of experience. Born out of the capital's session scene, as Toby Shippey (Salsa Celtica drummer & trumpeter) says, they'd played together so long they thought they "might as well make a band out of it!". Fiddler Ciaran Ryan (of Dallahan) and former Fara pianist Jennifer Austin complete the trio, who then invite a selection of guests for each performance. Or at least that's the plan, this being their first official gig.
For the first half, the trio were joined by singer Adam Holmes, another participant in their late-night Edinburgh sessions. Holmes' songs have a laid-back acoustic vibe, with a hint of melancholy. Having not heard Adam for a year or two, it was interesting to see how his set has developed; there were a few touches of Americana in the songs, and perhaps a mellower, more reflective tone to the lyrics. The songs were accompanied tastefully by his High Rolling companions, with Ryan's subtle contributions on the fiddle a particular highlight.
After the break, the tunes began. The core trio were this time accompanied by Tim Edey (guitar & accordion), Eamonn Coyne (banjo & tenor guitar) and Laura-Beth Salter on mandolin. The whole group were joking and the atmosphere was very informal, which indeed did make it feel like a session; an impressive achievement for a seated audience gig. Edey & Coyne were especially hilarious, their sense of humour coming through in the music, as the group danced from one tune to another with incredible pace and stamina. Ciaran Ryan's fiddle playing was remarkably clear, even in the faster material. The music was a mixture of traditional and modern pieces – mainly Scottish and Irish – with a number of tunes composed by the instrumentalists themselves. Toby Shippey's 'Our Work Here is Done' slowed things down a bit, with Shippey on muted trumpet and Ryan's fiddle taking the melody for the air – a piece written to remember an end-of-session ritual Toby used to have with Angus Grant, the late Shooglenifty fiddle player.
It seemed like a short set, for a band that could clearly have carried on into the small hours. For an encore, the group began with the beautiful Aly's Waltz before once again heading into a creative mix of faster tunes. The High Rolling Sessions clearly know what they're doing, even if they don't know what's next; keep a look out for them, or in the meantime, go find them at a session!
Alan Murray